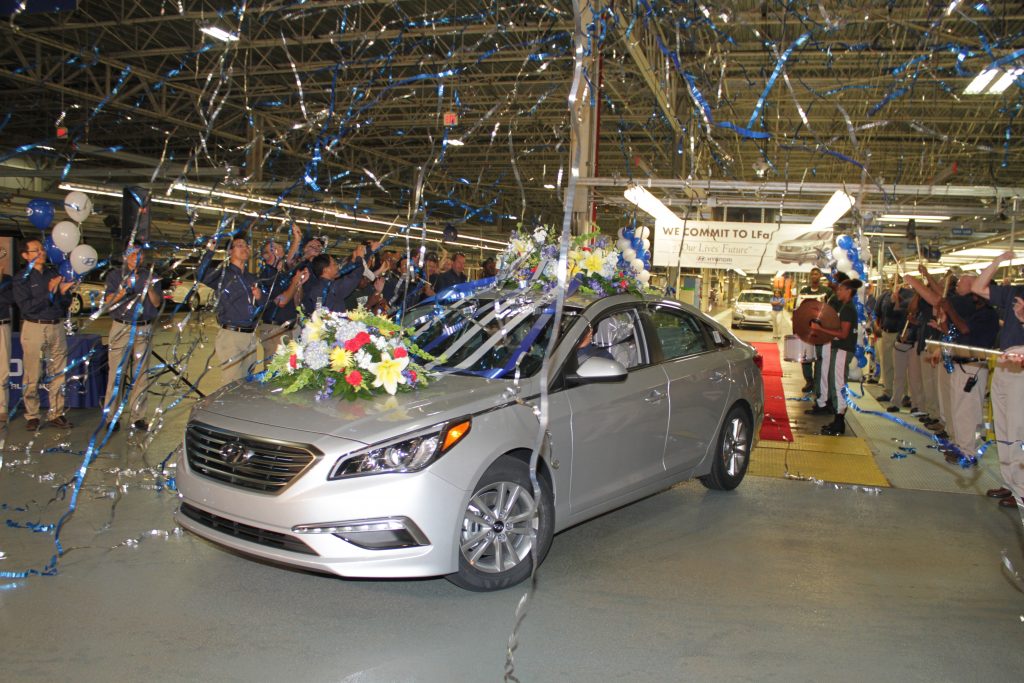 2015 Sonata Begins Production in Alabama
Production of the 7th generation Sonata is in full swing at HMMA with suppliers, production, engineering, maintenance and quality teams overcoming many challenges to achieve a successful launch of the re-designed sedan. The previous generation Sonata raised the bar for design in the mid-size sedan segment when it was introduced in 2009. The new design is more refined with crisp lines, a premium look and improved driving dynamics.
"After evaluating more than 500 test vehicles to refine and approve hundreds of parts from our suppliers for fit and finish attributes, the burden has shifted to our Team Members to make a conscious effort to keep quality in the forefront at every stage of the production process," said Chris Susock, director – quality operations.
"We have now made the transition from YF to LF," said Ashley Frye, vice president – production. "The 'F' in the vehicle code symbolizes future. Team Members must understand that this vehicle is another step in the long-term future of our plant."
The quality of the vehicle we produce here has everything to do with the future brand image of Hyundai in North America. When Team Members are mindful of their processes and adhere to our overall quality standard they have an enormous impact on Hyundai's brand image.
The Hyundai brand has experienced solid growth since to 2008. The HMMA-built Sonata and Elantra sedan contributed to this amazing track record.
"To continue this momentum, the 2015 Sonata sedan must be delivered to Hyundai dealers with zero issues from the assembly process," added Frye. "Our Team Members have the control to stop a quality issue in its tracks, they have the responsibility to install a component the right way or reject a supplier part that does not meet our quality standards."
The new Sonata will be arriving at dealer showrooms in late June. During the last week of June, 100 automotive and lifestyle journalists will be visiting HMMA. They will tour the plant and cruise Montgomery and the River Region in the Sonata. These reporters will be writing stories about their experience at our plant and behind the wheel of our cars. Let's do our part to make the first impression of the 2015 Sonata a positive one for Hyundai's bright future.