Hyundai Motor Manufacturing Alabama's Vision & Mission Statements
HMMA Mission Statement:
"To be an innovative manufacturer of current and future mobility solutions."
HMMA Vision Statement:
"HMMA is a place that inspires all of us to bring the best Hyundai vehicles to life."

On Friday, May 20, 2005, Chung Mong-koo, chairman and chief executive officer of Hyundai Kia Automotive Group, and Alabama Governor, Bob Riley, gathered with elected officials to celebrate the grand opening of Hyundai Motor Manufacturing Alabama, LLC (HMMA).
"This new manufacturing facility reaffirms Hyundai's commitment toward investing in the U.S. economy, as well as its commitment toward U.S. consumers," said Chairman Chung. "American consumers have recognized Hyundai's quality, and this plant will enable us to better serve them."
The facility marked the official start of production with its first saleable 2006 Sonata in May 2005. Currently, the plant assembles the Hyundai Elantra sedan, the Santa Fe and Tucson SUVs, the Santa Cruz Sport Adventure Vehicle, and the luxury brand Genesis Electrified GV70 SUV. HMMA is capable of producing up to 399,500 vehicles per year at full capacity.
HMMA's three engine shops make the Smartstream G2.5 GDI, G1.6 T-GDI, G2.0 Atkinson, G2.5 GDI, and G2.5 T-GDI engines. These engines are used in vehicles manufactured at HMMA as well as in vehicles manufactured at Kia Motors Manufacturing Georgia in West Point, Ga.
The $1.8 billion facility is Hyundai's first and only U.S. manufacturing plant, employing approximately 3,800 team members with competitively paying jobs and generous benefits. Additionally, more than 72 suppliers have located businesses throughout North America to support the Hyundai plant. Additionally, HMMA's many regional suppliers add thousands of other jobs and additional economic benefit to the state's economy.
Our 3.4-million square-foot manufacturing plant resides on 1,744 acres of land and includes a stamping facility, weld shop, paint shop, vehicle assembly shop, a two-mile test track and three engine shops.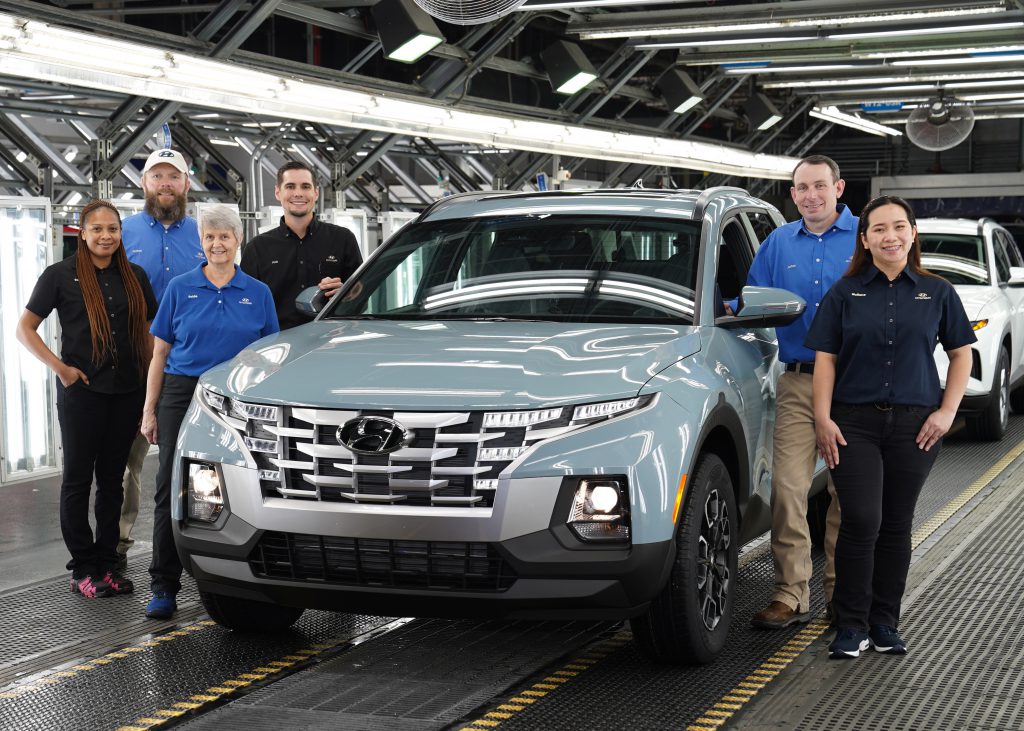 Diversity is a priority at Hyundai. We recognize that diversity is not a program, but an ongoing process. Hyundai is applying that philosophy to our overall diversity efforts in Alabama.
HMMA aims to employ a diverse workforce that is representative of Alabama and the community. By having team members from a variety of backgrounds, ages, races, experiences, values, perspectives and beliefs, HMMA will create stronger teams and be a better company. Hyundai also will work with local civic, business, community and political organizations to truly become a viable resource to the community.
At Hyundai, we thrive on growth. To help make this a reality, we are recruiting, retaining and developing a diverse workplace. By valuing each individual and focusing on a common goal, our team members will produce quality cars while enjoying a positive work environment.
Main Number
(334) 387-8000
Purchasing
purchasing@hmmausa.com
Suppliers

Hyundai Motor Manufacturing Alabama, LLC (HMMA) prides itself on its relationships with its suppliers, vendors, customers, contractors, and business associates.
Team Member Discount Program for Vendors
HMMA's "H-List" vendors provide special discounts to HMMA Team Members.
Hyundai Motor Manufacturing Alabama (HMMA), headquartered in Montgomery, Ala., is an independent manufacturing operation of Hyundai Motor Company, based in Seoul, South Korea. HMMA cars and sport utility vehicles are distributed throughout North America, Canada, United States and Puerto Rico.
Hyundai Motor Manufacturing Alabama, LLC
700 Hyundai Blvd.
Montgomery, Alabama 36105
(334) 387-8000
To verify employment, please visit www.theworknumber.com/verifiers, or call The Work Number Client Service Center at 1-800-367-5690. The Employer Code is 28913
If you have a question or comment about your Montgomery-made Hyundai vehicle, please fill out the customer feedback form.