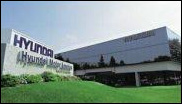 A Look Back – Hyundai Enters the U.S. Market
The timing of Hyundai's entry into the U.S. market in 1986 was ideal. At that time, most automobile manufacturers had abandoned the entry-level market in favor of high-end, high-priced vehicles, leaving a large void in the market. First-time car buyers such as college students and young families were not able to find adequate, value-equipped cars that met their needs, yet were priced within their economic means.
In February 1986, Hyundai launched its subcompact Excel model in the U.S. market. Customer response was immediate; in just seven months Hyundai Motor America had sold its 100,000th Excel. Total 1986 sales numbered 168,882 – an industry record for an import car distributor in its first year. Hyundai sales averaged 1,431 units per dealer, another sales record. In 1987, Hyundai sales continued to soar, reaching a record of 263,610 units.
What makes this sales performance even more remarkable is that it was done with dealers located in only 31 of the 50 states. In the early years, Hyundai concentrated its sales efforts primarily on the West and East coasts, as well as in the southern states. In 1987, Hyundai expanded into the central portion of the United States, opening a central region office near Chicago. Today there are four regions and nearly 600 Hyundai dealerships nationwide.
Hyundai Motor America
As the presence of Hyundai automobiles and Hyundai Motor America continued to grow in America, the company began to expand its operations and service networks nationwide to more effectively serve the needs of dealers and customers. In 1988, HMA opened a $21 million, 300,000 square-foot parts distribution center in Ontario, CA, to facilitate parts deliveries to Hyundai's expanding dealer body. The next year, HMA opened a $16.6 million, 342,000 square-foot office complex and parts distribution center in Aurora, IL. There is an additional parts distribution center in Lawrenceville, GA and a Warranty Technical Center in Fountain Valley, CA.
Today, Hyundai also has regional offices in Jamesburg, N.J., Austell, GA, Aurora, IL and Coppell, TX. In addition, the New Jersey facility also incorporates a parts distribution center.
In 1990, Hyundai Motor America moved its national headquarters from Garden Grove, CA, to a new 18-acre site in nearby Fountain Valley, CA – an investment of $18 million. In addition to corporate offices, this facility also houses HMA's western regional office, Hyundai's California Design Center, the National Service Center and the National Headquarters of Hyundai Motor Finance Co.
Hyundai Motor Finance Co. (HMFC) launched in 1990 with a capital investment of $15 million and 22 employees. HMFC now employs nearly 200 people and has accumulated a portfolio of nearly $500 million. Hyundai Motor Finance Co. serves Hyundai dealers nationwide with individual customer financing and dealer inventory financing.
.
Also in 1990, HMA opened a $12.2 million port facility in Portland, Oregon. It features a large dock area, a 45,000 square-foot processing building, a holding lot for incoming cars, as well as an area for rail car and vehicle transport. Other Hyundai port facilities are located in Wilmington, CA; Brunswick, GA; Newark, NJ; Baltimore, MD; and Fort Worth, TX.
A new corporation called HK Logistics America (HKLA), formed in March 2003, is now responsible for all vehicle logistics management for Hyundai Motor America and Kia Motors America in the U.S. HKLA is headquartered in Costa Mesa, Calif. and has 11 port operations (nine water ports and two inland processing centers) located in eight U.S. states.
In April of 2002, Hyundai broke ground in Montgomery, Alabama for its first U.S. automobile assembly plant, a $1 billion investment that is scheduled to open in 2005 and employ nearly 2,000 people. The facility, to be built on 1,600 acres, is expected to assemble 300,000 vehicles per year. The first two vehicles scheduled to be produced in the Hyundai Motor Manufacturing Alabama (HMMA) assembly plant are the revised Sonata and Santa Fe models.
In February of 2003, the new $25 million state-of-the-art Hyundai-Kia Motors Design & Research Center opened in Irvine, California. The 90,000 square foot design and technical center houses 100 auto designers, engineers, model makers and technicians, many who were responsible for design successes such as Hyundai's Santa Fe sport-utility vehicle and its HCD-6 and HCD-7 concept vehicles, as well as Kia's KCD-1/Slice concept vehicle.
Also in early 2003, a ceremonial groundbreaking event was held for the new Hyundai/Kia proving ground in the California desert near Edwards Air Force Base. This testing facility is scheduled to be constructed in the next two years.
After 25 years in the U.S. automobile market, Hyundai continues to reinforce its commitment to sell innovative, high-quality vehicles at the most affordable prices.
Hyundai Motor America, headquartered in Fountain Valley, Calif., is a subsidiary of Hyundai Motor Company of Korea. Hyundai cars and sport utility vehicles are distributed throughout the United States by Hyundai Motor America and are sold and serviced by more than 800 Hyundai dealerships nationwide.