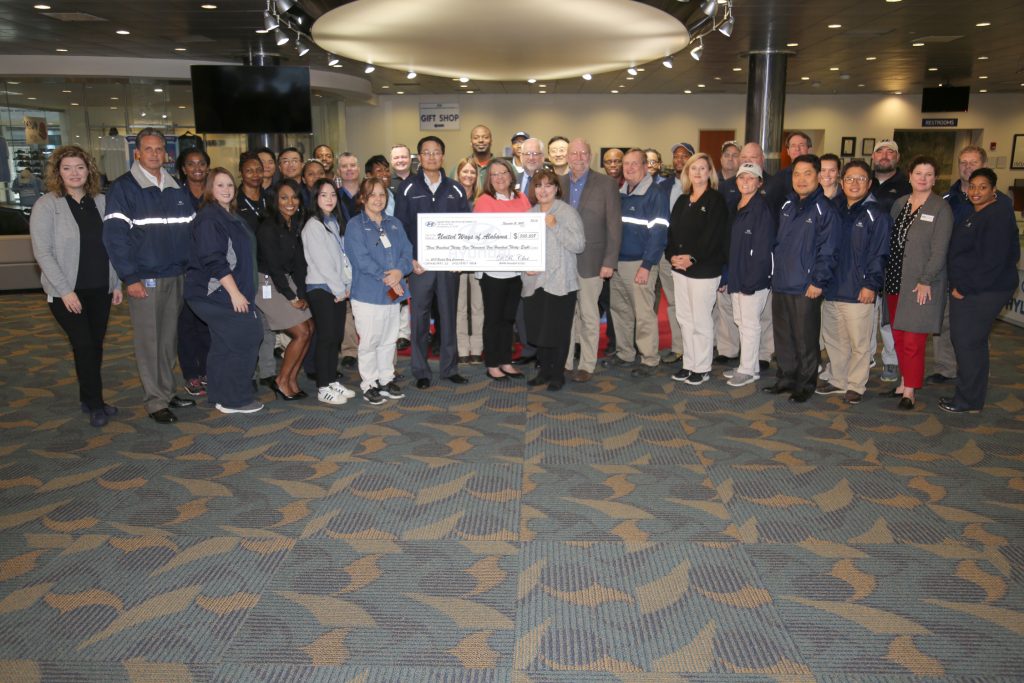 HMMA AND ITS TEAM MEMBERS PLEDGE MORE THAN $335,000 TO UNITED WAYS OF ALABAMA
Montgomery, Ala. – November 13, 2018 – Hyundai Motor Manufacturing Alabama (HMMA) and its nearly 3,000 team members have demonstrated their generosity once again by donating to the United Ways of Alabama.
On November 13, 2018, representatives from United Way offices throughout the River Region gathered at HMMA to learn the results of the company's 2018 campaign. This year, HMMA team members have chosen to pledge more than $270,538 to support United Way agencies throughout the River Region and the state of Alabama. The company contributed an additional $65,000, which brings the total contribution to more than $335,538.
This year marks the 15th consecutive year that HMMA team members have pledged their money and support to the United Way. "That tradition equates to 15 years of our Team Members opening both their hearts and their wallets to reach the people in our community who need our help the most," said Yvette Gilkey-Shuford, director of administration – HMMA. "This is the 15th time our Team Members have recognized their own good fortune by choosing to bless their neighbors with contributions to agencies that serve practically every need in our community and beyond."
In total, since HMMA's first United Way campaign in 2004, Team Members have pledged more than $2.7 million to the United Ways of Alabama.
Hyundai Motor Manufacturing Alabama, headquartered in Montgomery, Ala., is an independent manufacturing operation of Hyundai Motor Company, based in Seoul, Korea. HMMA currently produces the 2019 Sonata, Elantra, and Santa Fe. Hyundai cars and sport utility vehicles are distributed throughout the United States by Hyundai Motor America and are sold and serviced by more than 900 Hyundai dealerships across North America.