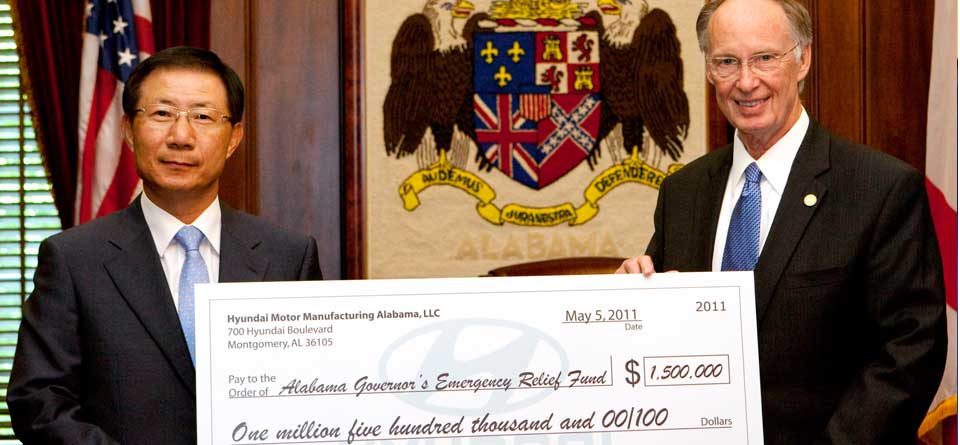 HMMA donates $1.5 million to Governor's Emergency Relief Fund
Hyundai donates a million dollars to disaster relief following devastating tornadoes throughout the state of Alabama.
FOR IMMEDIATE RELEASE
Contact:
Robert Burns
(334) 387-8010
MONTGOMERY, Ala., May 6, 2011 – Hyundai Motor Manufacturing Alabama reinforced its commitment to the State's citizens with a $1.5 million donation to Governor's Emergency Relief Fund, Governor Robert Bentley announced today.
"This is corporate citizenship of the highest order that has emerged in the time of our State's greatest need," Governor Bentley said. "Alabama's partnership with Hyundai Motor Manufacturing Alabama has grown deeper through the years and has blossomed into a true friendship. While I am humbled, I am not surprised by the generosity of this fine company."
Hyundai Motor Manufacturing Alabama President and CEO Y.D. Lim indicated that providing "hope and comfort" was the goal of the gift.
"Our heartfelt sympathy goes out to everyone who lost loved ones in this terrible tragedy, and to all of our fellow Alabamians who lost their homes and all of their possessions," said Mr. Lim. "We hope that our humble gift to the Governor's Emergency Relief Fund, which is given on behalf of all Hyundai Motor Company affiliates, will help bring necessary supplies and relief to our fellow citizens as quickly as possible, and that it will provide a measure of hope and comfort to those who are suffering at this time."
Hyundai Motor Manufacturing Alabama, headquartered in Montgomery, Ala., is an independent
manufacturing operation of Hyundai Motor Company, based in Seoul, Korea.  HMMA currently produces the 2011 Sonata and 2011 Elantra sedans.  Hyundai cars and sport utility vehicles are distributed throughout the United States by Hyundai Motor America and are sold and serviced by more than 900 Hyundai dealerships across North America.
The purpose of the Governor's Emergency Relief Fund is to provide help to Alabamians who have exhausted all other avenues of disaster relief, such as FEMA, Red Cross, the Salvation Army, and any other disaster relief programs. It may receive donations from individuals, businesses and organizations.
The United Ways of Alabama will serve as the fiscal agent for the Fund. A board of directors will be created to allocate funds. Gifts to the Governor's Emergency Relief Fund are tax deductible.