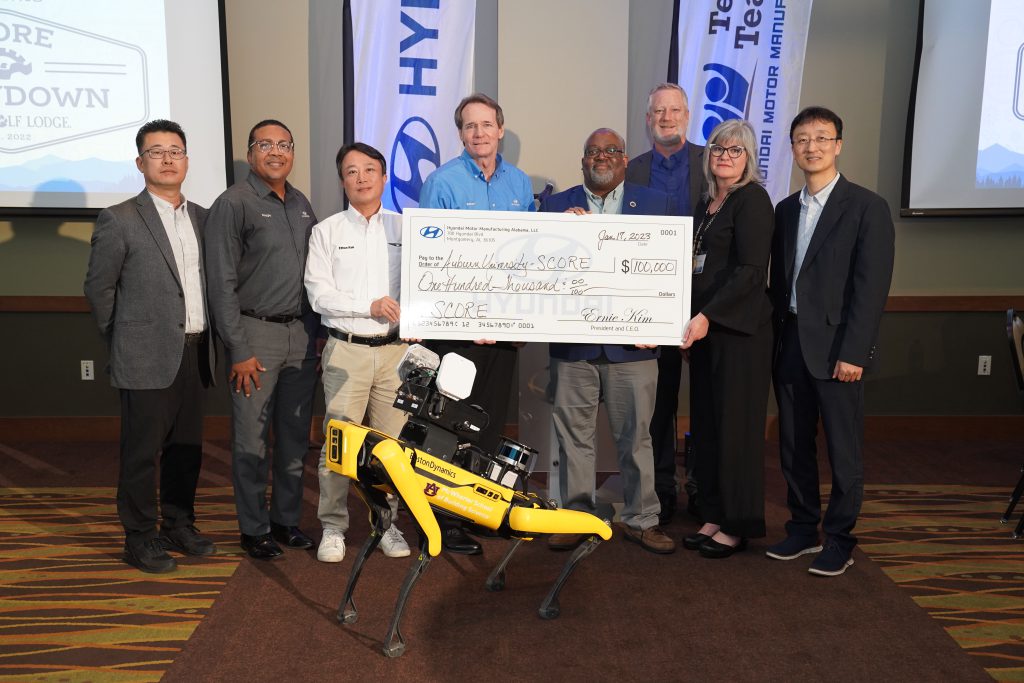 HMMA DONATES $100,000 TO PRESENT THE SCORE SHOWDOWN VEX ROBOTICS COMPETITION
MONTGOMERY, Ala. – January 17, 2023 – Hyundai Motor Manufacturing Alabama (HMMA) is the presenting sponsor at the 2023 SCORE Showdown, a premier VEX robotics competition held in LaGrange, Ga., at Great Wolf Lodge. HMMA's $100,000 donation to sponsor the SCORE Showdown is part of an ongoing partnership between HMMA and Auburn University to provide opportunities for students to learn and increase their interest in STEM courses and careers which will provide the future workforce for the highly skilled jobs created by HMMA and other advanced manufacturers. VEX Robotics is a national robotics program for elementary through university students.
The competition is hosted by the Southeastern Center of Robotics Education, or SCORE. The SCORE Showdown is different than other robotics tournaments hosted by SCORE in Alabama because teams in this signature even can earn a slot straight to the VEX World Championship to be held in Dallas, TX later this year.
Over the course of this four-day event, a total of 179 elementary, middle, and high school robotics teams from across the U.S. and Canada will compete in different tournaments, with 20-55 teams competing daily.
HMMA's sponsorship of the SCORE Showdown is in conjunction with its HIRE Program – the Hyundai Initiative for Robotics Excellence. In 2020, HMMA made an initial $70,000 donation to establish robotics teams at all 10 public middle schools in Montgomery, Alabama. In January 2022, HMMA presented a second donation for $78,800 to expand robotics programs to all eight of Montgomery's public high schools.
Sixteen teams from Montgomery Public Schools that are funded by HMMA's HIRE grants are competing in this year's Hyundai Presents SCORE Showdown.
Executives from HMMA and administration from Auburn University's College of Sciences and Mathematics visited today's tournaments and Hyundai presented a check to Auburn during the event. The students also received a robotics demonstration of a Hyundai-owned Boston Dynamics SPOT robot owned by Auburn named "Mac."
Below, you'll find high-resolution versions of the images associated with this post. Right-click and "Save As" on any of the links below to save the image to your computer.