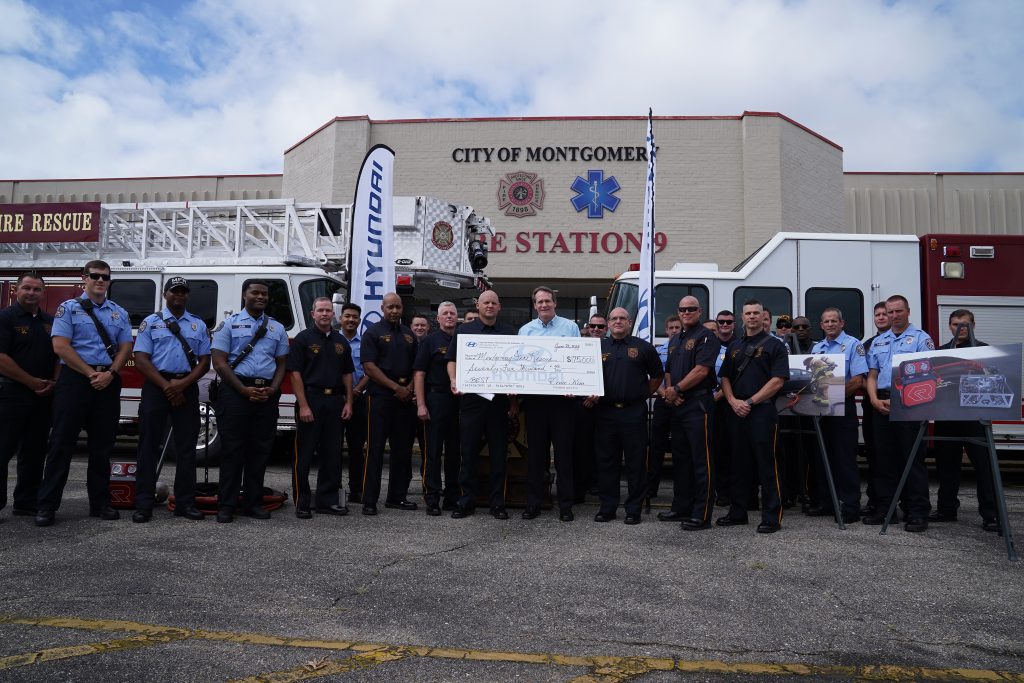 HMMA DONATES $75,000 TO MONTGOMERY FIRE RESCUE FOR ELECTRIC VEHICLE BATTERY FIRE EXTINGUISHING SYSTEMS
MONTGOMERY, Ala., June 22, 2023 – Hyundai Motor Manufacturing Alabama, LLC (HMMA) reinforces their commitment to safe future mobility by donating $75,000 to Montgomery Fire Rescue for the purchase of two Rosenbauer Battery Extinguishing System Technology (BEST) systems which are designed to quickly extinguish fires in high-voltage lithium-ion batteries which are used in most electric vehicles.
"Without these units, we would fight the fire in a traditional way, just putting water on the fire. But it would take a long, extended period of time and a copious amount of water to do so," said Montgomery Fire Rescue District fire Chief, James Payton. "That causes a lot of problems, whether it's just the fact that we're blocking the roadways for several hours to do it or keeping units out of service for that period of time. All of those are issues. But with this equipment it will speed that process up and make things easier and safer for our firefighters."
High voltage lithium-ion batteries are used in most battery electric (BEV) and hybrid electric (HEV) vehicles which are continuing to gain acceptance and interest with consumers. Electric vehicle battery fires behave differently than traditional combustion engine fires with the fire emanating from the center bottom portion of the vehicle. The BEST system pierces the underside of the battery casing and delivers water directly to the battery pack cells, quickly and safely extinguishing the fire.
"Because we're now building electric vehicles here in Montgomery, let alone the fact that electric vehicles are becoming more prevalent in the U.S, we needed to offer a tool for local firefighters to use if a lithium fire were to occur," said Robert Burns, HMMA Chief Administrative Officer (CAO) and Vice President. "And those conversations with the Montgomery Fire Department led to this particular system that allows them to reduce the amount of water used, but also make it a safer process as they try to extinguish an electric vehicle fire. To be able to offer $75,000 towards the purchase to these units and allow them to strategically place them in Montgomery is really what we need to do to give back to the community. So it was easy decision to make to offer these funds to be able to purchase these two systems."
HMMA began producing an electric vehicle in February of this year with the all new Genesis Electrified GV70 SUV. HMMA also produces a hybrid version of its popular Santa Fe SUV.
Below, you'll find high-resolution versions of the images associated with this post. Right-click and "Save As" on any of the links below to save the image to your computer.