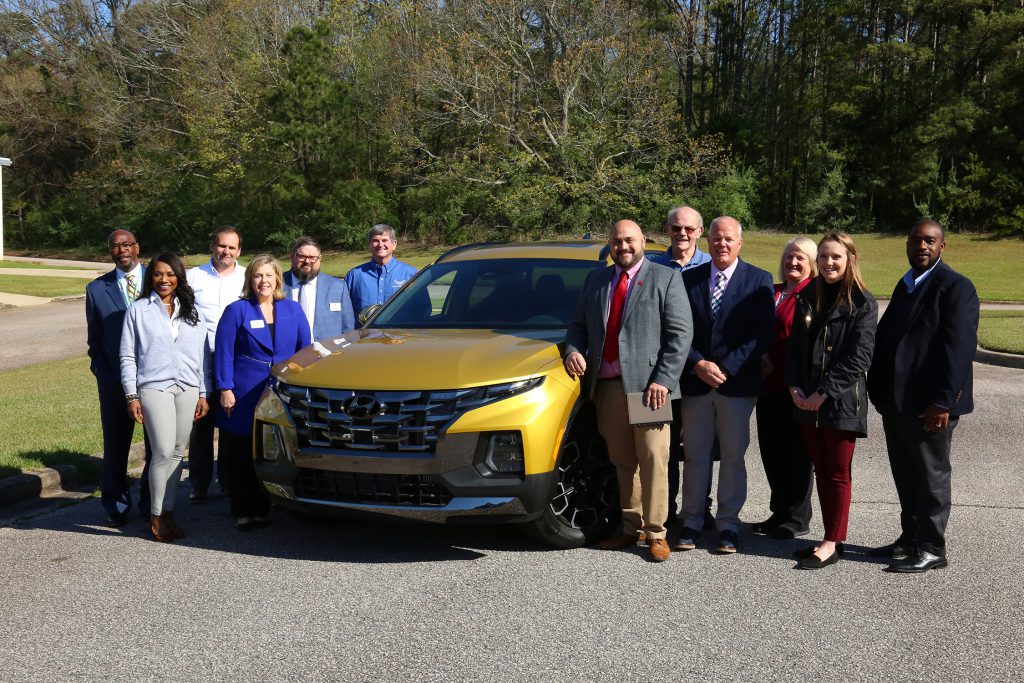 HMMA DONATES VEHICLES TO MODERN MANUFACTURING PROGRAM IN CHAMBERS AND MACON COUNTIES
Chambers and Macon County, AL – Students in the Modern Manufacturing Pilot Programs in Chambers and Macon counties will soon receive new pieces of equipment for their labs; two brand new Alabama-built Hyundai vehicles.
Hyundai Motor Manufacturing Alabama (HMMA) is donating a Hyundai Santa Cruz to Chambers County, and a Hyundai Santa Fe to Macon County. Modern Manufacturing Program students will be able to disassemble and reassemble these vehicles to get hands-on practice on real-world products.

The Modern Manufacturing Pilot Program launched in both counties this school year, a result of the increasing need for a skilled manufacturing workforce. The program prepares students for entry level manufacturing careers for Alabama's automotive Original Equipment Manufacturers (OEM), including Hyundai Motor Manufacturing Alabama (HMMA) and its suppliers. Participants learn basic employability skills, safety, technical skills, and manufacturing principles needed to be successful in today's manufacturing environment.
"We have to have a workforce that's ready to build cars," said Deputy Secretary of Commerce and AIDT Executive Director, Ed Castile. "Shortly Alabama will be the second most auto producing state in the country behind Michigan."

The Modern Manufacturing Program utilizes industry leadership to design career pathways that meet industry needs and improve the talent pipeline. Instructors not only teach manufacturing principles but call on local and regional manufacturers to be in the classroom. Students can receive up to seven stackable credentials in the multi-year program available to students in grades 10-12.

"The Modern Manufacturing Pilot Program blends the classroom skills needed for success with input from automotive leaders so that we know these students have the right training, know what to expect, and will be ready to succeed in the workplace," said Gindi Prutzman, Central AlabamaWorks Executive Director. "We seek to bring industry and education together as often as possible, and this program does just that."

As Hyundai Motor Manufacturing Alabama continues to expand, the plant took steps to accelerate the number of students who want to pursue a career in the automotive industry. Hyundai donated vehicles for pilot high schools to use as valuable classroom tools. "At HMMA, we believe in investing in our team members and communities that surround our facility here in Alabama. Our future team members will be absolutely essential to our success and growth, not just as a company, but as a community partner. We have always felt that success and learning go hand in hand, and we are delighted to be able to be a part of this exciting learning opportunity," said Robert Burns, Chief Administrative Officer, Hyundai Motor Manufacturing Alabama.

The vehicles being donated are preproduction units which will be operationally disabled by HMMA after they are delivered to each county.

Central AlabamaWorks! is a non-profit organization established to work throughout Region 5, a thirteen-county workforce region in Central Alabama including the following counties: Autauga, Bullock, Chambers, Coosa, Dallas, Elmore, Lee, Lowndes, Macon, Montgomery, Perry, Russell, and Tallapoosa. The mission of Central AlabamaWorks! is to facilitate a system that provides business and industry with job seekers and students who have received the education and training that aligns with their needs throughout the region.
Below, you'll find high-resolution versions of the images associated with this post. Right-click and "Save As" on any of the links below to save the image to your computer.