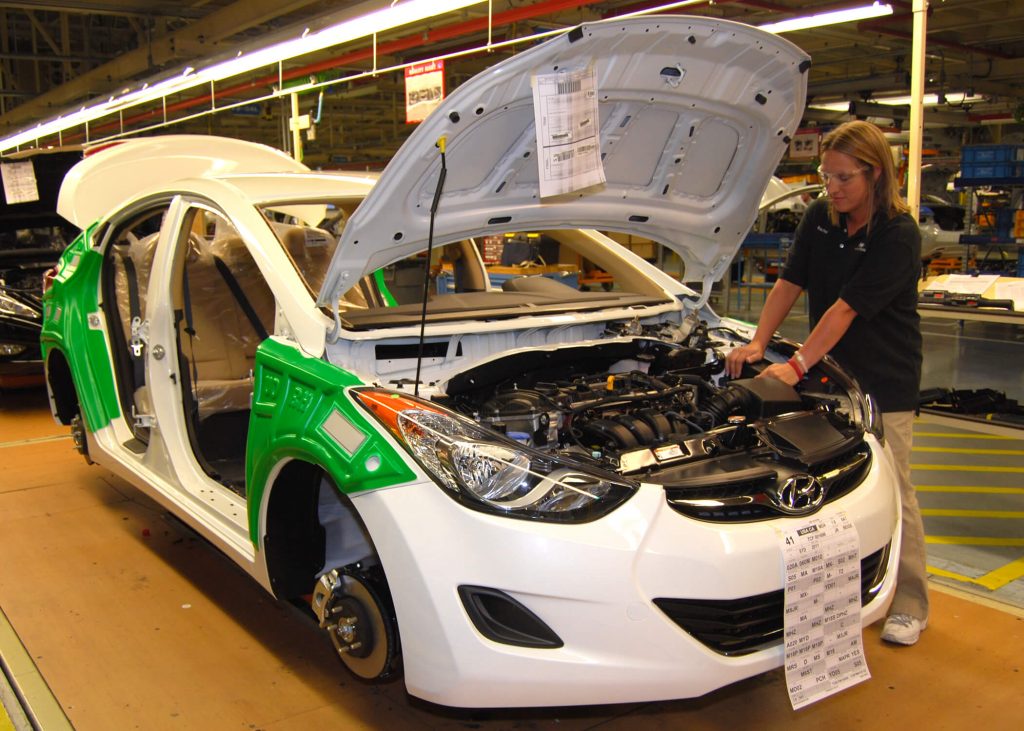 HMMA produces 31,730 vehicles during March 2011
HMMA Team Member checks a component on a 2011 Elantra sedan
Consumer demand for Montgomery-built vehicles keeps plant at full capacity
Montgomery, Ala. – In an effort to keep up with phenomenal demand for Alabama-built vehicles, Hyundai Motor Manufacturing Alabama (HMMA) set an all-time production record during March 2011 by producing 31,730 vehicles. The previous record was 31,500 units during June 2010. Hyundai Motor America recently announced record March sales of 61,873 units, the best-ever sales month for the brand. March's strong performance was led by Sonata and Elantra products that were up a combined 55 percent over March last year and accounted for 68 percent of total Hyundai volume.
"It is exciting to see the momentum for the Sonata continue one year after its official launch during the Super Bowl in February 2010," said Robert Burns, manager – public relations. "Sonata sales are up 67 percent through March 2011 and we are very confident annual sales will reach 200,000 units."
Rising fuel costs are influencing consumer's automotive buying decisions and both of HMMA's vehicles offer more than 35-mpg EPA fuel economy on the highway. The breakthrough 40-mpg 2011 Elantra saw a jump in sales of more than 134 percent over March last year.
"The combined strong sales of the Sonata and Elantra will keep HMMA's Team Members very busy as they focus on building the safest and highest quality cars," Burns added. "The plant continues to work two 10-hour shifts, five days per week. The Team Members also work two 8-hour shifts, one Saturday each month."
The record-setting production schedule is being mirrored by the more than 30 suppliers in the River region who support the Hyundai plant. They produce the wide variety of components installed in each HMMA vehicle.
During March, the plant built 18,782 Sonata and 12,948 Elantra sedans. The plant is projected to produce more than 330,000 vehicles during calendar year 2011. Canada and Puerto Rico are export customers of HMMA. The plant shipped 1,495 Sonata and 3,473 Elantra sedans to Canada and 70 Sonatas to Puerto Rico.