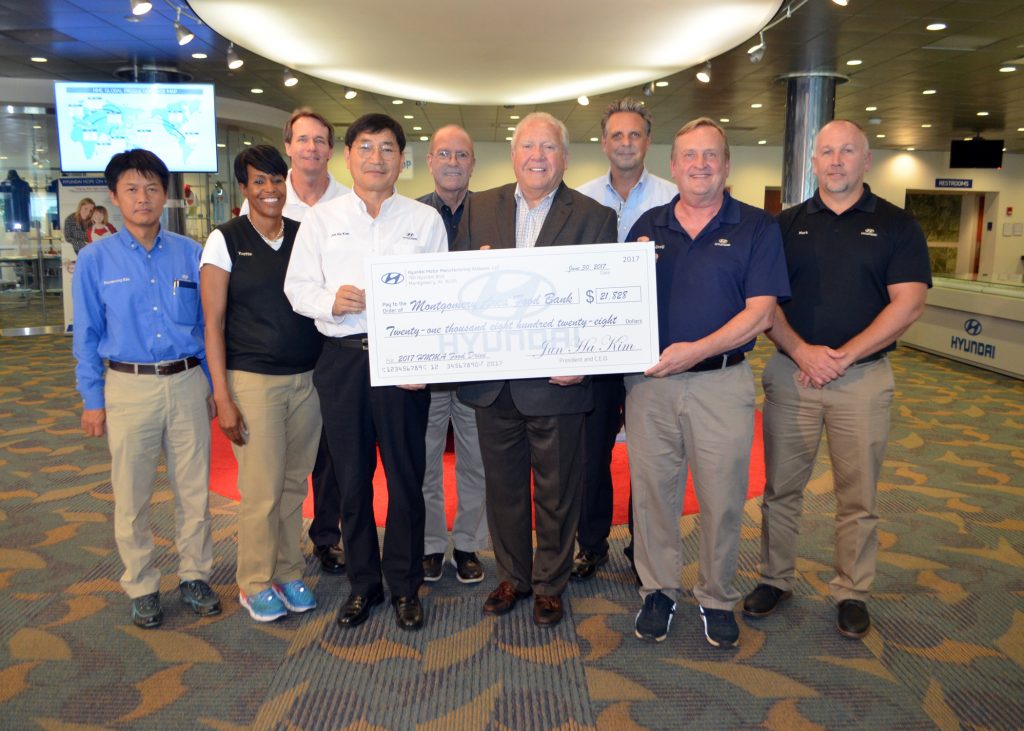 HMMA TEAM MEMBERS DONATE MORE THAN $21,000 TO MONTGOMERY AREA FOOD BANK
Montgomery-based automotive parts suppliers raise more than $4,000 in additional funds
MONTGOMERY, Ala., July 20, 2016 – Hyundai Motor Manufacturing Alabama (HMMA) Team Members showed their generosity and team spirit by donating more than 160 pounds of non-perishable food and collecting $21,701 for the Montgomery Area Food Bank.  Employees at three of HMMA's Alabama-based suppliers, Enova Premier, Glovis Alabama and Mobis, joined the food drive. Their team effort resulted in additional food donations and another $4,449 to support the mission of the Montgomery Area Food Bank.
"I am so very proud of the HMMA team as a whole, and all of the individual Team Members who stepped up and gave so generously once again to support our families and neighbors here in the Montgomery area and mid-state region," said Craig Stapley, director of engine production – HMMA. "HMMA and many of our suppliers are dedicated to the cause of eliminating hunger for all those so desperately in need.  I thank all of our Team Members for giving for the last 10 years and for the increase each year. We are proud to be a corporate citizen, neighbor, and friend here in Montgomery and Alabama"
Food bank barrels and boxes were delivered to HMMA and the participating suppliers to encourage participation. The combination of in-kind donations of non-perishable food and $26,150 in cash contributions is equivalent to more than 169,975 pounds or 85 tons of food.
The food bank's Executive Director, E. Parke Hinman, offered his thanks to Team Members and suppliers for their continued support. "The Montgomery Area Food Bank (MAFB) greatly appreciates the strong support of Hyundai and its suppliers," said Hinman. "From the beginning of their presence in the Montgomery Area, Hyundai has been a strong supporter of the MAFB through various Hyundai-sponsored events and employee or corporate donations to the MAFB.  Hyundai is definitely a big time friend of the food bank!"
HMMA and its Alabama-based suppliers are proud to support the Montgomery Area Food Bank and plan to support this worthwhile organization for years to come.
2016 Food Drive HMMA Supplier Results
Supplier Name
Food (pounds)
Money
Enova Premier
9
$187.00
Glovis Alabama
0
$4,247
Mobis
237
$15
Total
246
$4,449
Hyundai Motor Manufacturing Alabama, headquartered in Montgomery, Ala., is an independent
manufacturing operation of Hyundai Motor Company, based in Seoul, Korea.  HMMA currently produces the 2017 Sonata and Elantra sedans and the 2017 Santa Fe Sport.  Hyundai cars and sport utility vehicles are distributed throughout the United States by Hyundai Motor America and are sold and serviced by more than 900 Hyundai dealerships across North America.
Below, you'll find high-resolution versions of the images associated with this post. Right-click and "Save As" on any of the links below to save the image to your computer.