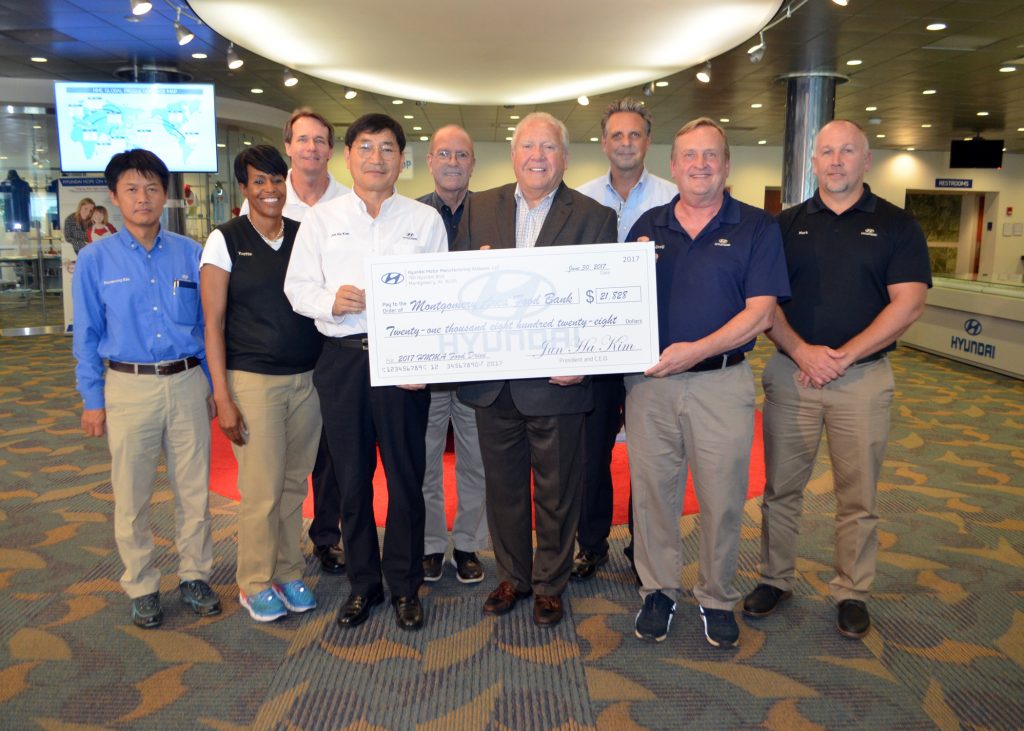 HMMA TEAM MEMBERS DONATE MORE THAN $21,000 TO MONTGOMERY AREA FOOD BANK
MONTGOMERY, Ala., June 30, 2017 – Hyundai Motor Manufacturing Alabama (HMMA) team members showed their generosity and team spirit by collecting $19,773.25 for the Montgomery Area Food Bank.  Employees at two of HMMA's Alabama-based suppliers joined the food drive. Their team effort resulted in an additional $2,055.00 to support the mission of the Montgomery Area Food Bank.
"Once again the HMMA team members have given willingly and generously to those in need.  HMMA strives to be a leader in corporate giving," said Craig Stapley, director of production – HMMA. "We are willing neighbors who respond when we see a need.  Feeding the hungry is near and dear to all of us."
Food bank barrels and boxes were delivered to HMMA and the supplier operations to encourage participation. The food bank's CEO, Rich Deem, offered his thanks to team members and suppliers for their continued support.
"Hyundai is one of the strongest supporters of our mission to eradicate hunger in Alabama.  Hyundai team members are acutely aware of the great challenge their 'food insecure' friends and neighbors face daily.  Not only are they concerned but they take action," said Deem. "The Montgomery Area Food Bank treasures our partnership with Hyundai."
The combined total of monetary donations from HMMA and its Alabama-based suppliers is $21,828.25.  Together we are very proud to support the Montgomery Area Food Bank and plan to support this worthwhile organization for years to come.