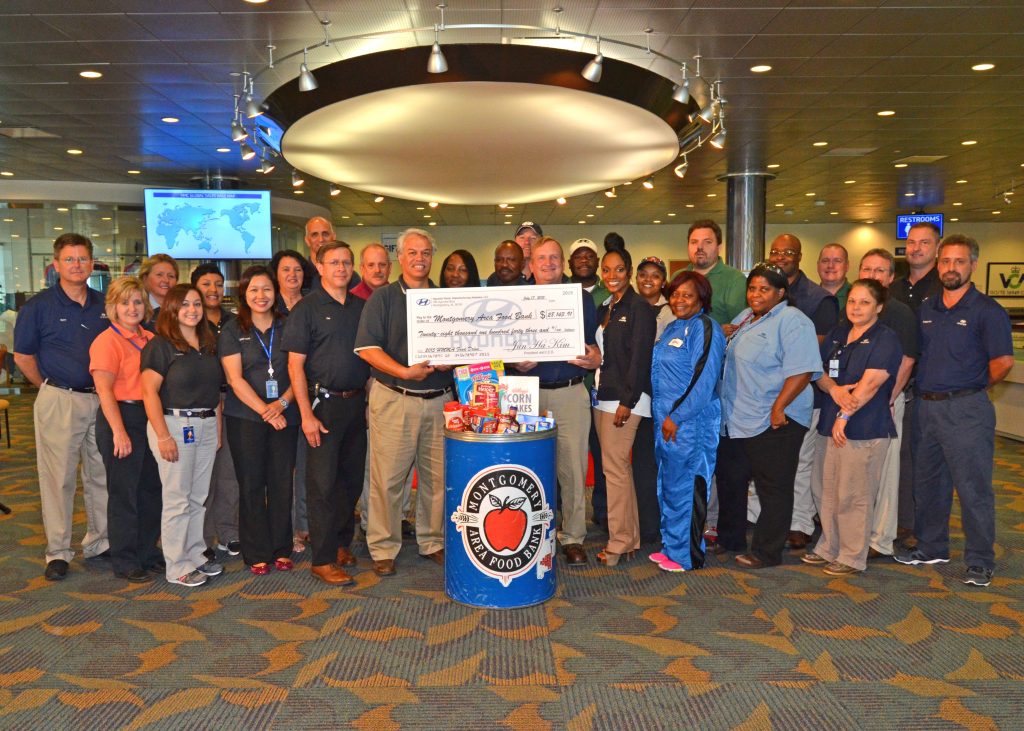 HMMA TEAM MEMBERS DONATE MORE THAN $21,000 TO MONTGOMERY AREA FOOD BANK
Montgomery-based automotive parts suppliers raise more than $11,000 in additional funds.
MONTGOMERY, Ala., July 17, 2015 – Hyundai Motor Manufacturing Alabama (HMMA) Team Members showed their generosity and team spirit by donating more than 250 pounds of non-perishable food and collecting $21,562 for the Montgomery Area Food Bank. For the first time, employees at seven of HMMA's Alabama-based suppliers joined the food drive. Their team effort resulted in an additional 3,900 pounds of food being donated, along with more than $11,108 to support the mission of the Montgomery Area Food Bank.
"I am so thankful to all of the Team Members that participated in HMMA's food drive for the Montgomery Area Food Bank," said Craig Stapley, director of production – HMMA. "Having employees from our valued suppliers join our drive was an added bonus. There are a lot of people out there that need our help, and I want to thank our suppliers and our Team Members for making that happen."
Food bank barrels and boxes were delivered to HMMA and the supplier operations to encourage participation. At the conclusion of the drive, the Montgomery Area Food Bank truck picked up more than 4,000 pounds of food from all locations. The food bank's Executive Director, E. Parke Hinman, offered his thanks to Team Members and suppliers for their continued support.
"We consider ourselves to be extremely fortunate to enjoy the heartfelt support of Hyundai Motor Manufacturing Alabama and their cadre of local suppliers," said Hinman.  "This is the 9th Annual Food & Fund Drive they've held for us, which speaks directly to the fact that their generosity, while being an outstanding example of what corporate responsibility looks like at its best, is also a direct reflection of their people.  Not only have they consistently donated food and funding, but we see Hyundai staff and families consistently volunteering at the food bank too. We know we're fortunate to have great neighbors, as well as committed partners in our fight against hunger."
The combination of in-kind donations of non-perishable food and $32,671 in cash contributions is equivalent to more than 212,364 pounds or 106.18 tons of food. HMMA and its Alabama-based suppliers are proud to support the Montgomery Area Food Bank and plan to support this worthwhile organization for years to come.
2015 Food Drive HMMA Supplier Results

Supplier Name
Food (pounds)
Money
Lear Corporation
1,596
$710.00
KyungshinLear
1,782
$220.00
Hwashing
246
$0
Enova Premier
81
$1,006.00
PHA Body Systems
30
$540.00
Halla Visteon Climate Controls
0
$1,075.00
Mobis
200
$4,363.66
Glovis Alabama
0
$3,193.82
Total
3,935
$11,108.48
Hyundai Motor Manufacturing Alabama, headquartered in Montgomery, Ala., is an independent
manufacturing operation of Hyundai Motor Company, based in Seoul, Korea. HMMA currently produces the 2016 Sonata and Elantra sedans. Hyundai cars and sport utility vehicles are distributed throughout the United States by Hyundai Motor America and are sold and serviced by more than 900 Hyundai dealerships across North America.
Below, you'll find high-resolution versions of the images associated with this post. Right-click and "Save As" on any of the links below to save the image to your computer.