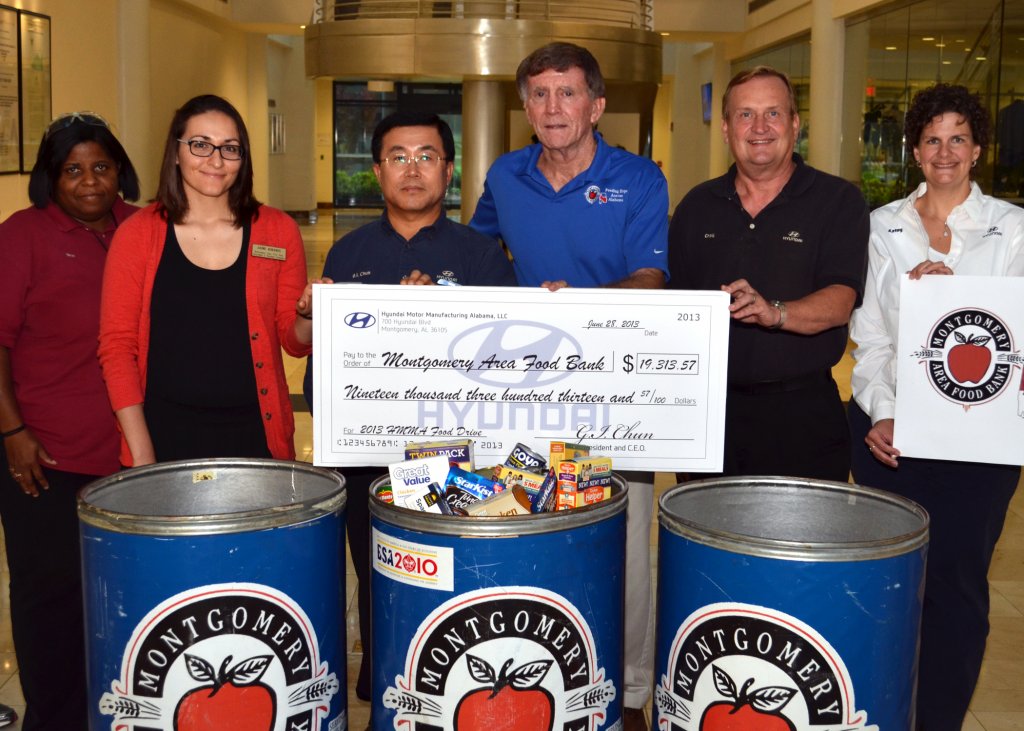 HMMA TEAM MEMBERS DONATE OVER $19,000 TO MONTGOMERY AREA FOOD BANK
MONTGOMERY, Ala., June 28, 2013 – Hyundai Motor Manufacturing Alabama (HMMA) Team Members showed their generosity and team spirit by donating more than 700 pounds of non-perishable food and collecting $19,393 for the Montgomery Area Food Bank.
"I am so thankful to all of the Team Members that participated in HMMA's food drive for the Montgomery Area Food Bank," said Craig Stapley, director of production – HMMA. "There are a lot of people out there that need our help, and I want to thank all of our Team Members for making that happen."
Food bank barrels were placed throughout the automotive assembly plant to encourage participation. At the conclusion of the drive, the Montgomery Area Food Bank truck picked up the 724 pounds of food from HMMA. The food bank's Executive Director, E. Parke Hinman, was also on hand to thank Team Members for their continued support.
"Each year, [HMMA] Team Members really come through for the hungry and needy in South Central Alabama," explained Hinman. "For every $25 donation, the Food Bank can distribute up to 160 pounds of food.  This would feed a family of three for two weeks or an elderly couple for an entire month."
This is the seventh year HMMA has organized a food drive. HMMA held the food drive campaign at the plant from June 3 – June 25, 2013.  The combination of in-kind donations of non-perishable food and $19,393 in cash contributions is equivalent to more than 126,000 pounds or 63 tons of food. HMMA is proud to support the Montgomery Area Food Bank and plans to support this worthwhile organization for years to come.
###
Hyundai Motor Manufacturing Alabama, headquartered in Montgomery, Ala., is an independent manufacturing operation of Hyundai Motor Company, based in Seoul, Korea.  HMMA currently produces the 2013 Sonata and Elantra sedans.  Hyundai cars and sport utility vehicles are distributed throughout the United States by Hyundai Motor America and are sold and serviced by more than 900 Hyundai dealerships across North America.
Below, you'll find high-resolution versions of the images associated with this post. Right-click and "Save As" on any of the links below to save the image to your computer.