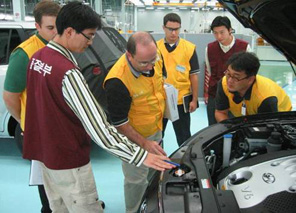 Hyundai Alabama Team Members Visit Korea to Learn Santa Fe Production
FOR IMMEDIATE RELEASE
Contact:           Kerry Christopher
334.387-8010    |   334.590.5440 cell
Kathy Johnson
334.387-8013    |   334.296-0514 cell
HYUNDAI ALABAMA TEAM MEMBERS VISIT KOREA TO LEARN SANTA FE PRODUCTION
MONTGOMERY, ALA., November 14, 2005 –  Seventy-five Team Members from Hyundai Motor Manufacturing Alabama, LLC (HMMA) recently traveled to Namyang Research and Development Center near Seoul, Korea.  The purpose of the over 14,000 mile round-trip journey was for assembly and quality process training to prepare for the upcoming all new 2007 Santa Fe sport utility vehicle (SUV) to be manufactured at the Montgomery plant.  Building of the SUV prototype has begun at the plant and production is scheduled for spring 2006.
Namyang R&D Center is a cutting-edge facility encompassing the whole design process, from pre-design studies, prototyping and full-scale aerodynamic testing to crash testing and final test driving along a 60km test track.  Employing over 6,500 engineers, Namyang R&D serves as the hub of Hyundai-Kia's global network and consolidates the company's research efforts around the world.
"The new R&D Center in Namyang is probably one of the finest in the world," said John Kalson, Director of Production for the Hyundai Alabama plant.  "I continue to be impressed by the level of detail and planning that goes into each Hyundai operation and program."  Kalson continued, "I was equally impressed, but not surprised, by all our Team Members and how well they adapted to the challenge.  It was as if they had been doing this for years."
The seventy-five Team Members consisted of production workers, engineers and management.  Team Members selected for this initial training will in turn train others as the plant progresses into pre-production this month and start of production next spring.
The training program was conducted during three separate trips of twenty-five Team Members each, traveling at two-week intervals.  During each two-week South Korean visit, Team Members had an opportunity to participate in several cultural activities, including an overview of South Korea's economical and political progress, a visit to a traditional Korean History Cultural Folk Center, a modern-day sight-seeing and shopping excursion in Seoul and the experience of enjoying traditional Korean cuisine.
"After spending two weeks at the R&D Center in Korea, there is no doubt in my mind that Hyundai will reach its goal of being one of the top five automobile manufacturers by 2010.  Their attention to detail and commitment to quality are second to none," said Frank Barnes Hyundai Alabama production Team Member.  Barnes was on the second of three training groups to travel to Namyang.  "I was impressed with how modern Korea is.  Although the Koreans place the country's goals over their own, they still have their own identity and individuality while operating as one."
HMMA, headquartered in Montgomery, Ala., is an independent manufacturing operation of Hyundai Motor Company, based in Seoul, Korea.  HMMA currently produces the Sonata sedan, and will begin production of the next generation 2007 Santa Fe sport utility vehicle in Spring of 2006.  At full capacity, HMMA will produce 300,000 vehicles annually.  Hyundai cars and sport utility vehicles are distributed throughout the United States by Hyundai Motor America and are sold and serviced by more than 800 Hyundai dealerships across North America.