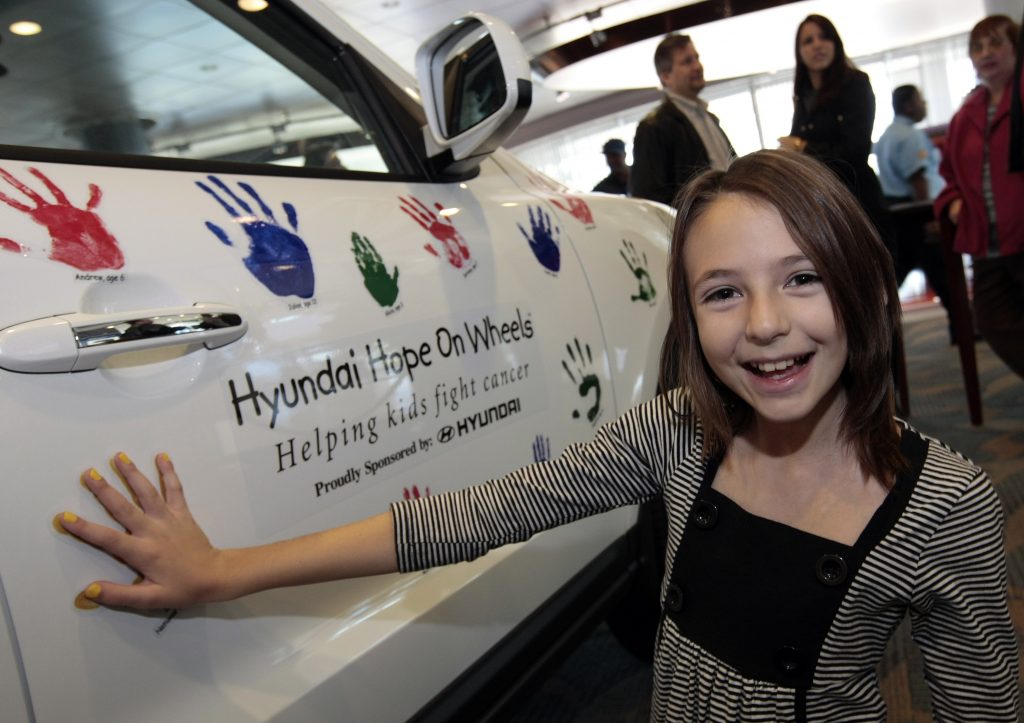 HYUNDAI HOPE ON WHEELS LAUNCHES 2009 TOUR AT HMMA
MONTGOMERY, Ala. – Hyundai Motor America and its dealers launched the 2009 Hyundai Hope on Wheels Tour with special kick-off events at Hyundai Motor Manufacturing Alabama (HMMA) and the Hyundai booth at the New York International Auto Show.
The 2009 Hyundai Hope on Wheels Tour will visit 30 children's hospitals across the country to donate $1.3 million to support pediatric cancer research.
On Tuesday, April 7, representatives from Hyundai and Hope on Wheels gathered at HMMA to unveil the 2009 Hyundai Hope on Wheels Santa Fe vehicle.
In addition to speeches and a ceremonial check presentation, 11-year old Samantha Heim, the Hyundai Hope on Wheels national youth ambassador, led a special handprint ceremony where she placed her painted handprints on the 2009 Hyundai Santa Fe to commemorate her fight against pediatric cancer.
Samantha was joined by 3-year old Sydney Iubelt of Millbrook, Ala., who is also a pediatric cancer survivor. Throughout the 2009 Hope on Wheels Tour, other children who are either battling or have overcome pediatric cancer will also place their colorful handprints on the white Santa Fe.
"On behalf of Hyundai dealers across the country, Hope on Wheels is proud to launch the 2009 tour with these special events that honor both children facing pediatric cancer and the unwavering dedication of the doctors who care for them," said Oscar Leeser, president of the national Hyundai Hope on Wheels Dealer Board and El Paso, Texas Hyundai dealer.
Following the kick-off at HMMA, the first official hospital donation event and handprint ceremony of the year took place in the Hyundai booth at the New York International Auto Show.
This year, Hyundai Hope on Wheels marks its 11th year of commitment to pediatric cancer research efforts. Hyundai and its dealers have donated more than $12.4 million to children's hospitals and collected hundreds of handprints from children fighting pediatric cancer nationwide.
To find out more about Hyundai Hope on Wheels and to see how you can donate to this great organization, visit www.hyundaihopeonwheels.org.
Photo cutline:
11-year old Samantha Heim, national youth ambassador for Hyundai Hope on Wheels, placed her handprint on a white Santa Fe as part of the 2009 Hope on Wheels Tour kick-off event held at HMMA.
Hyundai Motor Manufacturing Alabama, headquartered in Montgomery, Ala., is an independent
manufacturing operation of Hyundai Motor Company, based in Seoul, Korea.  HMMA currently produces the 2009 Sonata sedan and the next generation 2009 Santa Fe sport utility vehicle.  Hyundai cars and sport utility vehicles are distributed throughout the United States by Hyundai Motor America and are sold and serviced by more than 900 Hyundai dealerships across North America.