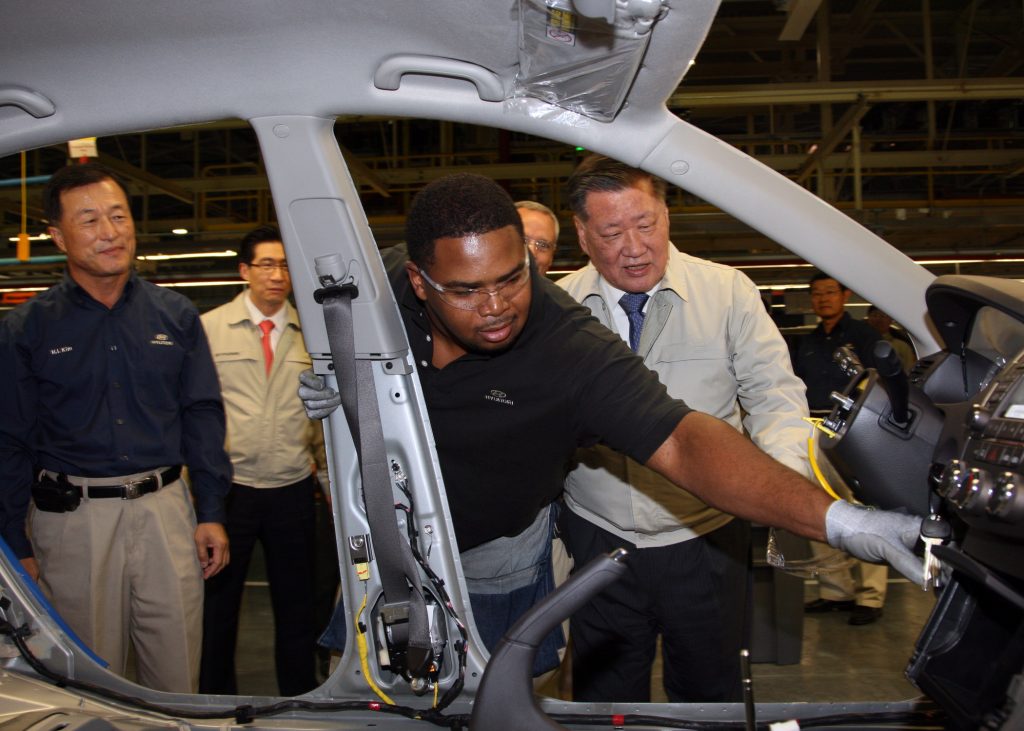 HYUNDAI MOTOR COMPANY CHAIRMAN AND CEO MONG-KOO CHUNG VISITS HYUNDAI MOTOR MANUFACTURING ALABAMA
MONTGOMERY, Ala., August 27, 2009 – Today, Mong-Koo Chung, Chairman and Chief Executive Officer of Hyundai Motor Company, visited Hyundai's only U.S. Manufacturing plant in Montgomery, Ala. He traveled to Hyundai Motor Manufacturing Alabama (HMMA) to meet with HMMA leadership and visit with Team Members on the production floor.
Chairman Chung expressed that Hyundai Team Members are the company's most valuable asset, and he congratulated all of HMMA's workers for their contribution to Hyundai's recent rise in vehicle quality. During this visit, Chairman Chung met with Team Members on the production line, getting to know their processes, and he enjoyed lunch in one of the plant's two cafeterias. He also encouraged Team Members to continue striving to improve the Hyundai vehicles they build in order to maintain high customer satisfaction.
Hyundai's increase in quality can be partly attributed to the company's focus on quality-based and on-site management. As he did in Montgomery today, Chairman Chung frequently visits Hyundai production facilities across the globe to put that philosophy into practice. After leaving HMMA, Chairman Chung traveled to West Point, Ga., to visit the KIA plant under construction there.
Automotive News recently announced Hyundai Motor Company as the fourth largest automotive manufacturer in the world by sales.