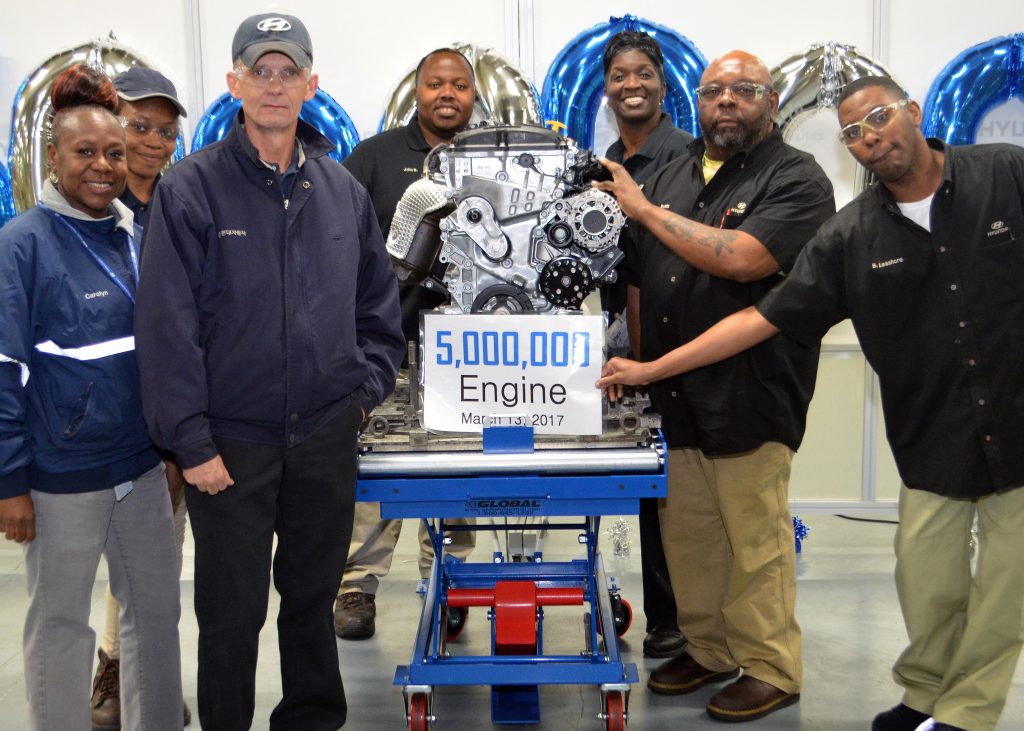 HYUNDAI MOTOR MANUFACTURING ALABAMA CELEBRATES 5 MILLIONTH ENGINE MILESTONE
Montgomery, Ala., – On Tuesday, March 14, 2017, Hyundai Motor Manufacturing Alabama (HMMA) celebrated the 5 millionth engine to be manufactured at the Alabama assembly plant. Engine shop Team Members and HMMA leadership gathered for a luncheon to celebrate this significant achievement.
The 5 millionth engine milestone comes less than 12 years after the plant assembled its first Lambda six-cylinder engine in May 2005. The engine shops achieved this milestone faster than any other engine assembly operation in the southeast because they have been supplying two automotive assembly plants since 2010.
"We would not have been able to celebrate this milestone if it weren't the tremendous support of all our engine production and maintenance team members," said Chris Susock, vice president – production at HMMA.  "They have a history of collaborating together to get the job done with an absolute priority on safety, efficiency and the best quality for their customers."
HMMA's two engine shops currently manufacture the Nu 1.8-liter 4-cylinder engine and the Theta 2.0- and 2.4-liter 4-cylinder engines. These engines are supplied to both HMMA and Kia Motors Manufacturing Georgia.
Together, HMMA's two engine shops have a capacity of more than 700,000 engines per year. The two shops employ more than 700 Team Members. The engine shops operate on two 10-hour shifts each day, with production running five or six days per week.
Pete Branham, senior manager – engine production at HMMA, added, "Our team members pour their heart into every single engine to ensure that it meets the highest quality standards.  Their track record for excellence has set the stage for the long-term success of HMMA and the Hyundai brand in the North American market."
Interesting facts about 5 million engines:
If lined up back-to-back, 5 million engines would stretch from Montgomery to California.

Five million engines would weigh 750,000 tons, which is more than 150,000 elephants.

HMMA has built more engines than there are registered vehicles in the state of Alabama.

If each of HMMA's 5 million engines achieved 150,000 miles on the road, it would equate to 750 billion miles traveled, or more than 3,000 trips to Mars.
Captions for photos:
HMMA 5 Mill Engine_1: Hyundai Motor Manufacturing Alabama Engine Shop Team Members gather around the plant's 5 millionth engine.
HMMA 5 Mill Engine_2: Hyundai Motor Manufacturing Alabama Engine Shop Team Member Rite Edwards installs a timing chain cover on a Theta 4-cylinder engine.
HMMA 5 Mill Engine_3: Hyundai Motor Manufacturing Alabama Engine Shop Team Member Jennifer Edwards installs connecting rod sleeves timing chain cover on a Theta 4-cylinder pistons.
Hyundai Motor Manufacturing Alabama, headquartered in Montgomery, Ala., is an independent manufacturing operation of Hyundai Motor Company, based in Seoul, Korea. HMMA currently produces the 2017 Sonata and Elantra sedans and 2017 Santa Fe Sport CUV. Hyundai cars and sport utility vehicles are distributed throughout the United States by Hyundai Motor America and are sold and serviced by more than 900 Hyundai dealerships across North America.
Below, you'll find high-resolution versions of the images associated with this post. Right-click and "Save As" on any of the links below to save the image to your computer.