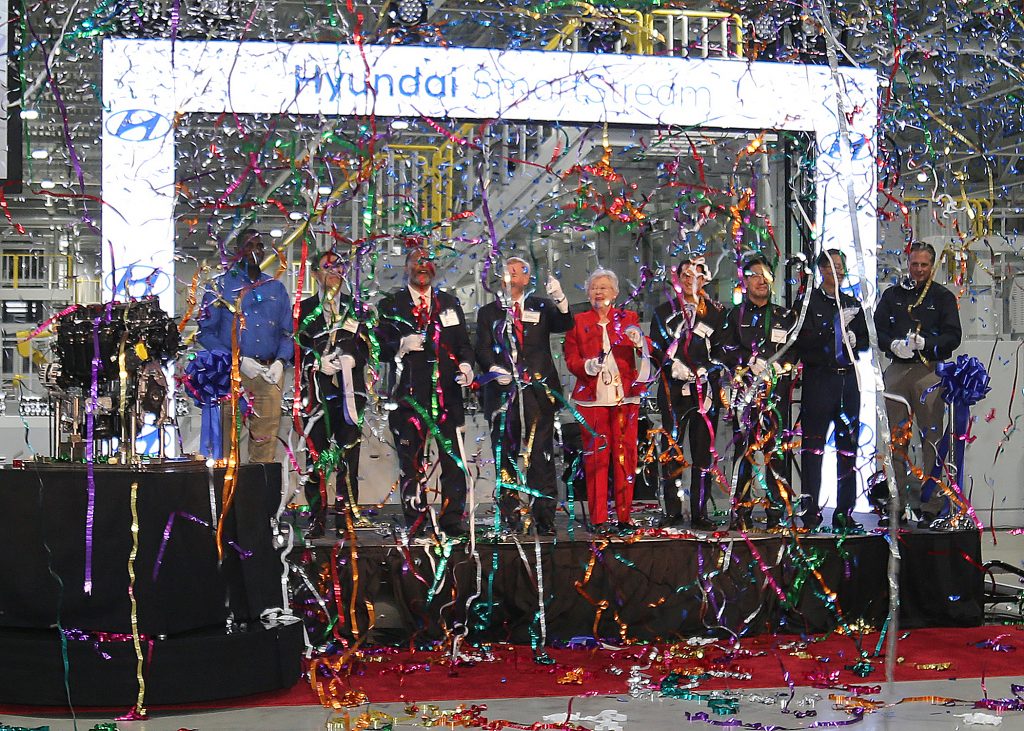 HYUNDAI MOTOR MANUFACTURING ALABAMA CELEBRATES GRAND OPENING OF NEW CYLINDER HEAD MACHINING PLANT
Montgomery, Ala. – May 15, 2019 – Alabama Governor Kay Ivey and other elected officials joined Hyundai Motor Manufacturing Alabama, LLC (HMMA), in a celebration of the grand opening of HMMA's cylinder head machining plant.
The new plant is the third facility at HMMA to support production of more than 650,000 engines per year.  The plant represents a $388 million total investment to manufacturing engine cylinder heads and also to enhance existing operations to support the production of new Sonata and Elantra sedan models. This investment also created many new jobs.
"With our latest expansion, HMMA continues to show its strong commitment to the people of Montgomery and the people of Alabama," Hyundai President and CEO Dong Ryeol Choi said when plans for the new engine plant were announced in 2018. "Hyundai is continuing its track record of investing in new manufacturing technologies to ensure the long-term success of our U.S. assembly plant."
HMMA's engine plants will now produce two all-new 4-cylinder engines for the all-new 2020 Sonata sedan: the Smartstream 2.5L Gasoline Direct Injection 4-cylinder engine, and the Smartstream 1.6L Turbo Gasoline Direct Injection 4-cylinder engine. These engines will offer Hyundai customers world-class fuel efficiency and reliability.  They will be built using enhanced technology for high-precision machining and manufacturing.
The new, 260,000 square foot building was constructed using advanced techniques, such as the inclusion of isolation pads for machining equipment which will lead to more precise machining. The building required more than 7,000 cubic yards of concrete and the movement of 150 football fields worth of dirt.
Hyundai Motor Manufacturing Alabama (HMMA), headquartered in Montgomery, Ala., is an independent manufacturing operation of Hyundai Motor Company, based in Seoul, Korea. HMMA currently produces the 2019 Sonata and Elantra sedans and Santa Fe sport utility vehicle. Hyundai cars and sport utility vehicles are distributed throughout the United States by Hyundai Motor America and are sold and serviced by more than 800 Hyundai dealerships across North America. HMMA, which started vehicle production in May 2005, is the River Region's largest private manufacturer with 2,700 full-time and 500 part-time employees.
Below, you'll find high-resolution versions of the images associated with this post. Right-click and "Save As" on any of the links below to save the image to your computer.