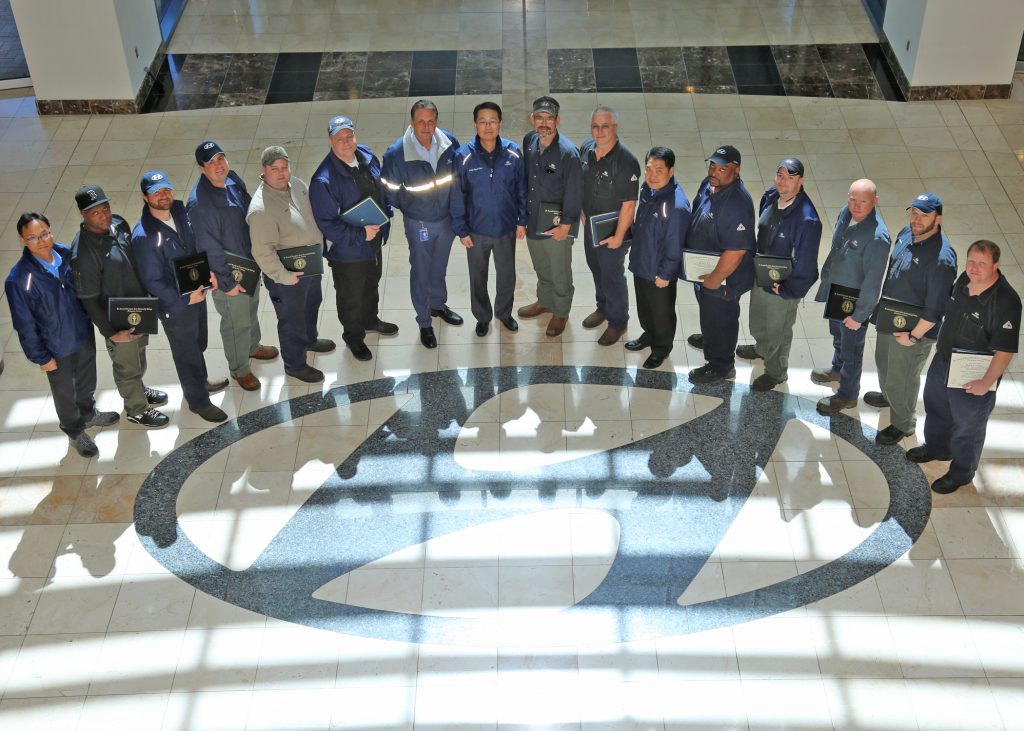 HYUNDAI MOTOR MANUFACTURING ALABAMA CONGRATULATES THE FIRST GRADUATING CLASS OF ITS MAINTENANCE APPRENTICESHIP PROGRAM
Montgomery, Ala. – March 6, 2019 – Hyundai Motor Manufacturing Alabama, LLC (HMMA) congratulated the inaugural graduating class of its Maintenance Apprenticeship Program today as they celebrated the completion of their industrial maintenance coursework and on-the-job training.
The Maintenance Apprenticeship Program began in August 2018 with 12 HMMA team members who were selected based on eligibility and successful completion of a written assessment, hands-on assessment, and interview. Over six months, the participants completed the program which combines six courses (19 credit hours) at Trenholm State Community College with hands-on work experience in the maintenance department at HMMA.
The HMMA Maintenance Apprenticeship Program was developed by HMMA in conjunction with Trenholm State Community College to address a shortage of highly skilled maintenance workers in the local job market. The program allows HMMA to develop its existing workforce while also providing its team members an opportunity to gain new skills and advance their careers. Trenholm's industrial maintenance curriculum teaches students the fundamentals of a career in industrial maintenance which team members can bring back to HMMA and apply to their daily duties.
"Investing in our workforce is crucial to maintaining a pool of highly skilled workers, and it helps keep skillful team members at HMMA," said Robert Burns, HMMA vice president of HR and administration. "We're proud to offer opportunities like the Maintenance Apprenticeship Program to our team members who are looking to develop new skills and pursue a fulfilling career."
Having successfully completed the apprenticeship program, the graduates will be eligible to transfer into maintenance positions at HMMA as openings become available. The second Maintenance Apprenticeship Program class will begin this month.