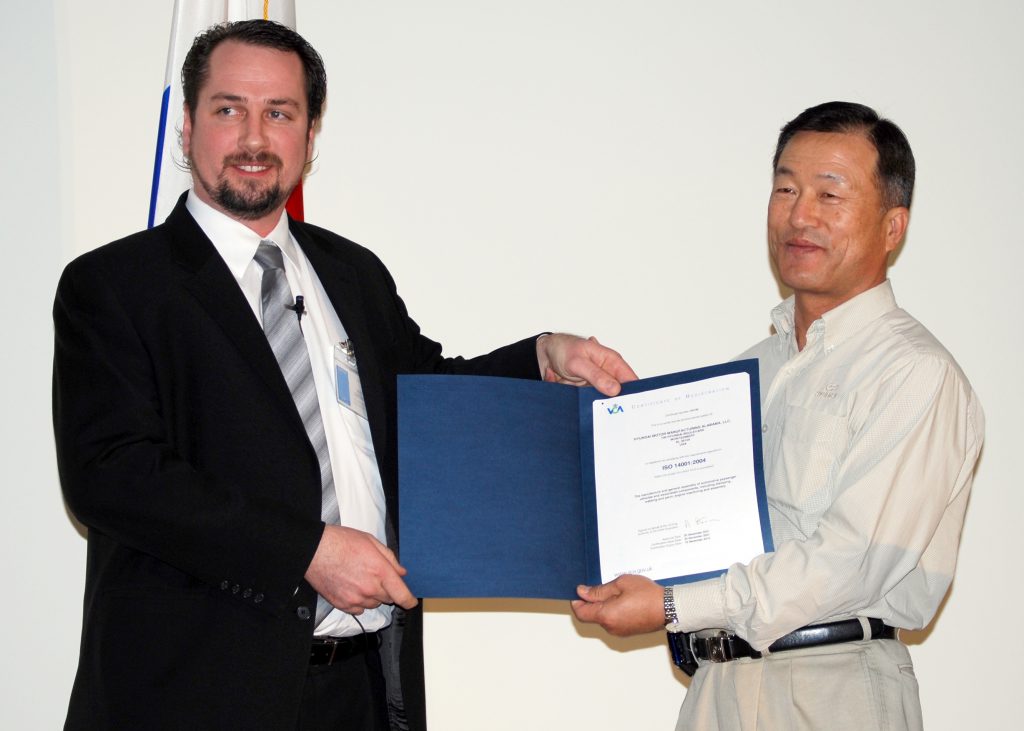 HYUNDAI MOTOR MANUFACTURING ALABAMA, LLC EARNS PRESTIGIOUS CERTIFICATION
Montgomery, Ala. – Hyundai Motor Manufacturing Alabama, LLC (HMMA) has earned the prestigious ISO 14001:2004 certification for effective environmental management systems. These systems were established to help build Sonatas and Santa Fes in an environmentally sustainable manner.
"HMMA's manufacturing operations have successfully developed and implemented innovative and effective, industry-leading systems designed around the theme of 'Prevention, Improvement and Conformance' to minimize our operations impact on the environment," said John Applegate, senior manager – plant engineering. "HMMA's certification to this challenging ISO standard for excellent environmental practices further helps to demonstrate that our products and services truly live up to Hyundai's goals of creating a sustainable future for humankind."
ISO 14001:2004 is an internationally recognized standard that provides guidelines and specific requirements for an environmental management system. To achieve certification, a company must demonstrate and provide objective evidence to a third-party certification body that its system is operating effectively in conformity to the established standard. HMMA's audit was conducted by the Vehicle Certification Agency (VCA) which has more than 30 years experience supporting the industry by providing internationally recognized testing and certification for vehicles, their systems and components.
The International Organization for Standardization (ISO) is the world's largest developer and publisher of International Standards. ISO is a network of the national standards institutes of 157 countries with a Central Secretariat in Geneva, Switzerland, that coordinates the system.