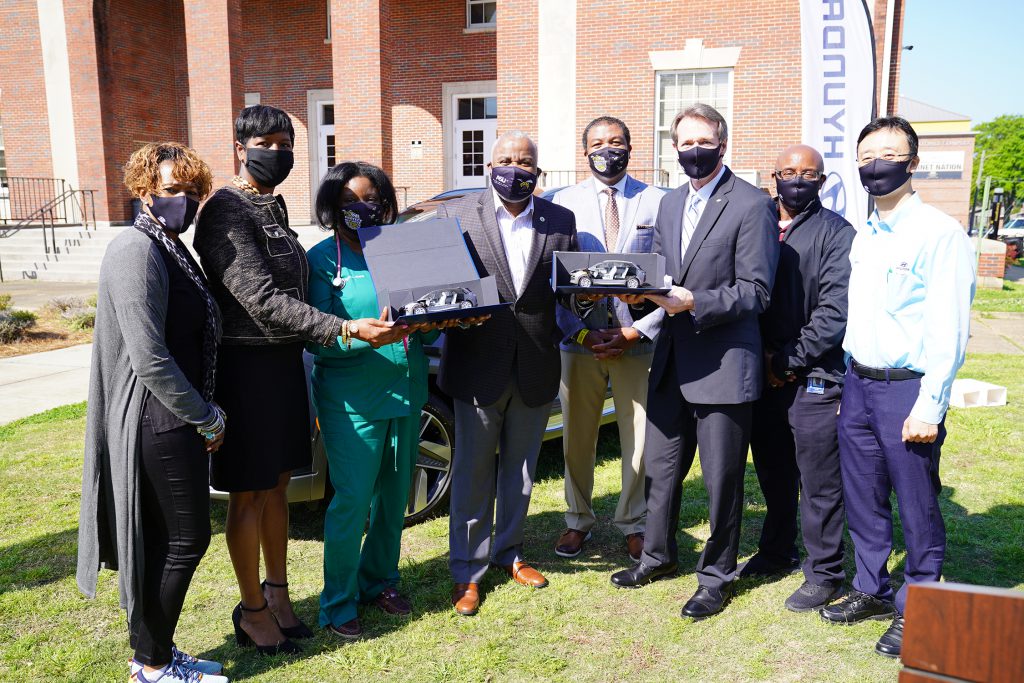 HYUNDAI MOTOR MANUFACTURING ALABAMA LOANS A NEXO HYDROGEN FUEL CELL VEHICLE TO ALABAMA STATE UNIVERSITY
Montgomery, Ala., April 6, 2021  – Hyundai Motor Manufacturing Alabama, LLC (HMMA) will be loaning the world's first hydrogen fuel cell sport utility vehicle, the Hyundai NEXO, to Alabama State University (ASU) for an extended test drive and evaluation period.
The Hyundai NEXO, the first hydrogen fuel cell SUV available for commercial sale in the world, uses hydrogen to produce electricity for the vehicle's electric power train. In Fuel Cell Electric Vehicles (FCEVs), the hydrogen fuel reacts with oxygen from the vehicle's air intake inside a fuel cell stack to produce electricity. The only emission is water vapor.
The Hyundai NEXO is currently only available for sale in California. Although the NEXO is not assembled at the Montgomery plant, HMMA currently has two Hyundai NEXOs that are part of a ride and drive program for HMMA team members. ASU president Dr. Quinton Ross and ASU health officer Dr. Joyce Loyd-Davis kicked off the evaluation period and took delivery of one of the NEXOs on Tuesday, April 6, 2021, on the ASU campus. The university will have three months to evaluate the NEXO, including making it available to students. When the loaned NEXO gets low on hydrogen, it will be exchanged for the other NEXO at the plant, filled from a portable hydrogen fueling station on site.
HMMA and ASU also have recently partnered to offer COVID-19 vaccinations to HMMA team members. The first of two vaccination clinics for team members was held on March 26 and 27, 2021. Second doses will be administered on April 16 and 17, 2021.
"The ground breaking spirit behind the NEXO mirrors our own mission to be an innovative manufacturer of current and future mobility solutions," said Robert Burns, HMMA vice president of HR and administration.
HMMA previously partnered with the city of Montgomery for a similar NEXO test drive and evaluation in 2019. The city used their time with the NEXO to determine the feasibility of "clean" hydrogen fuel cell vehicles as fleet vehicles if hydrogen fueling stations were available.
The Hyundai NEXO is part of Hyundai Motor Group's FCEV (Fuel Cell Electric Vehicle) Vision 2030. As part of this vision, Hyundai hopes to accelerate the development of a hydrogen society, expand its leadership in hydrogen technology beyond the transportation sector, and explore new businesses to supply fuel-cell systems to manufacturers.
Below, you'll find high-resolution versions of the images associated with this post. Right-click and "Save As" on any of the links below to save the image to your computer.