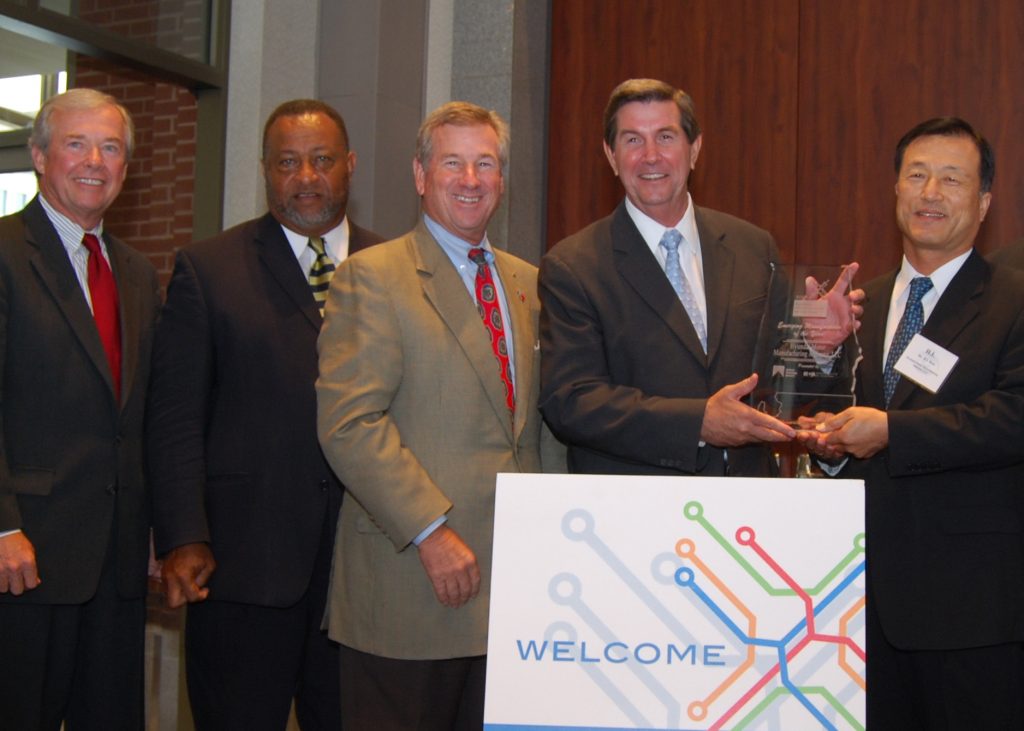 HYUNDAI MOTOR MANUFACTURING ALABAMA NAMED 2009 EMERGING MANUFACTURER OF THE YEAR
MONTGOMERY, Ala., May 19, 2009 – Hyundai Motor Manufacturing Alabama has been named Emerging Manufacturer of the Year by the Business Council of Alabama (BCA).
In the short time HMMA has been up and running, almost 1 million vehicles have been built. Approximately 10,000 jobs have been created at HMMA and its first-, second-, and third-tier suppliers.
HMMA has been featured in television documentaries on The History Channel and National Geographic Channel. And, the vehicles that roll off the assembly line have earned prestigious industry awards, like the Santa Fe's naming as a 2008 Consumer Reports Top Pick.
In fact, the plant itself has been recognized for excellence by earning certifications like ISO/TS 16949:2002, the International Automotive Task Force's highest automotive operating standard in the world.
The Emerging Manufacturer of the Year Award is given to manufacturing companies less than five years old that have made a significant impact in Alabama.
Nominees for the award were judged on customer focus, employee commitment, operational excellence, continuous improvement, profitable growth and investment in training.
Upon accepting the award, HMMA President and CEO H.I. Kim credited HMMA's Team Members for its success.
"This award is a tribute to the dedication of the more than 2,700 Team Members of Hyundai Motor Manufacturing Alabama," President Kim said. "They are producing high-quality products that exceed the expectations of our customers."
This was the third straight year that a Montgomery company won an award in the competition.
Randy George, president of the Montgomery Area Chamber of Commerce, said Montgomery's recent success is a sign of the economy becoming more manufacturing-focused.
"I think it is a reflection of the quality of Montgomery's work force," he said. "Our labor pool is strong, and we have become more of a manufacturing community."
Photo cutline:
Hyundai Motor Manufacturing Alabama was named the winner of the Business Council of Alabama's Emerging Manufacturer of the Year Award for 2009. From left to right: Randy George, president – Montgomery Chamber of Commerce, Elton Dean, chairman – Montgomery County Commission, Montgomery Mayor Todd Strange, Alabama Gov. Bob Riley, and H.I. Kim, president & CEO – HMMA.
Hyundai Motor Manufacturing Alabama, headquartered in Montgomery, Ala., is an independent
manufacturing operation of Hyundai Motor Company, based in Seoul, Korea.  HMMA currently produces the 2009 Sonata sedan and the next generation 2009 Santa Fe sport utility vehicle.  Hyundai cars and sport utility vehicles are distributed throughout the United States by Hyundai Motor America and are sold and serviced by more than 900 Hyundai dealerships across North America.