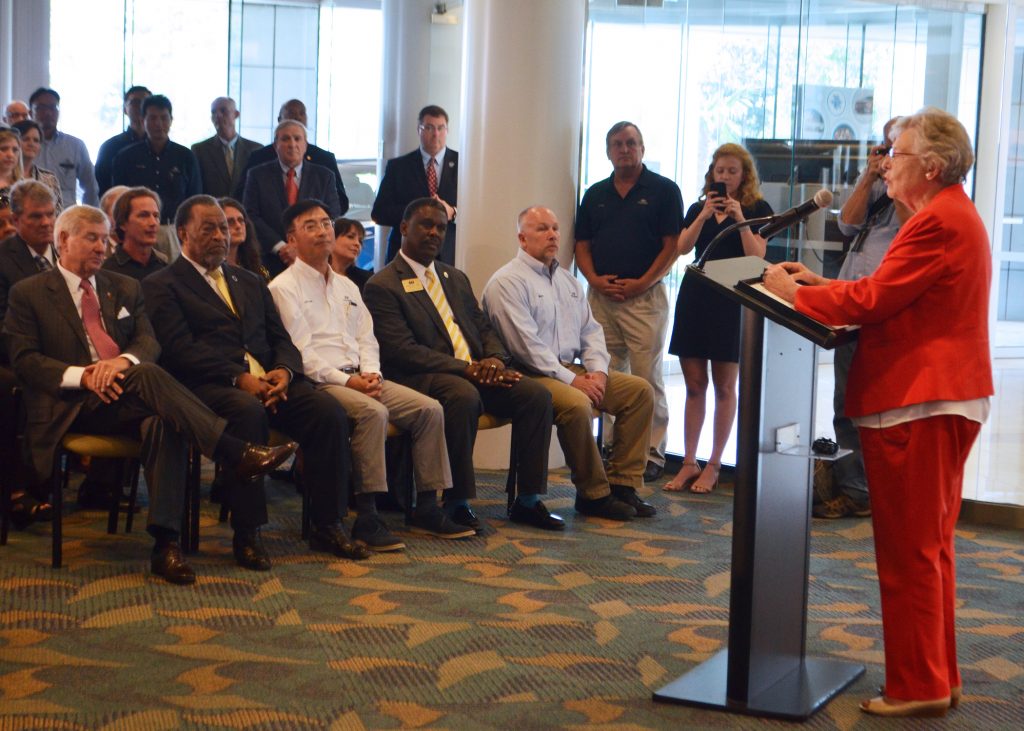 Hyundai Motor Manufacturing Alabama Preparing for Next Generation Engines
Expansion Brings 50 New Jobs to Alabama with a Capital Investment of $388 million
MONTGOMERY— Governor Kay Ivey joined Hyundai Motor Manufacturing Alabama LLC President and CEO Dong Ryeol Choi today to announce that Hyundai is investing $388 million to construct a plant dedicated to manufacturing engine heads and enhance existing operations to support production of new models of Sonata and Elantra sedans. The investment will create 50 new jobs.
Hyundai Motor Manufacturing Alabama (HMMA) is preparing for the next-generation Hyundai engine, which requires new technologies and components as a part of its assembly process. The capital investment will be spent on equipment for the engine head machining plant and updating technology in an existing engine plant.
"Hyundai is an important member of Alabama's dynamic auto industry, and this expansion at its Montgomery manufacturing facility will power the global automaker's drive for future growth in the U.S.," Governor Ivey said. "Hyundai's significant new investment is a strong testament to the company's confidence in its Alabama operation and in its highly skilled workforce."
"With our latest expansion, HMMA continues to show its strong commitment to the people of Montgomery and the people of Alabama," Hyundai President and CEO Dong Ryeol Choi said at today's announcement. "Hyundai is continuing its track record of investing in new manufacturing technologies to ensure the long-term success of our Alabama assembly plant."
It will cost approximately $40 million to construct the 260,000-square-foot building that will house the head machining equipment. Construction on the engine head machining plant is scheduled to be completed in November 2018. This project will free up space to expand engine assembly lines in one of HMMA's existing engine plants.
The new engine head machining facility will be operational by mid-2019. HMMA produces engines for Sonata and Elantra sedans and the Santa Fe crossover utility vehicle. HMMA's two engine plants are capable of producing approximately 700,000 engines per year to support the vehicle production at both HMMA and Kia Motors Manufacturing Georgia in West Point, Georgia.
HMMA, which started vehicle production in May 2005, is the River Region's largest private manufacturer with 2,700 full-time and 500 part-time employees.
Hyundai Motor Manufacturing Alabama, headquartered in Montgomery, Ala., is an independent manufacturing operation of Hyundai Motor Company, based in Seoul, Korea. HMMA currently produces the 2018 Sonata and Elantra sedans and 2018 Santa Fe Sport CUV. Hyundai cars and sport utility vehicles are distributed throughout the United States by Hyundai Motor America and are sold and serviced by more than 900 Hyundai dealerships across North America.