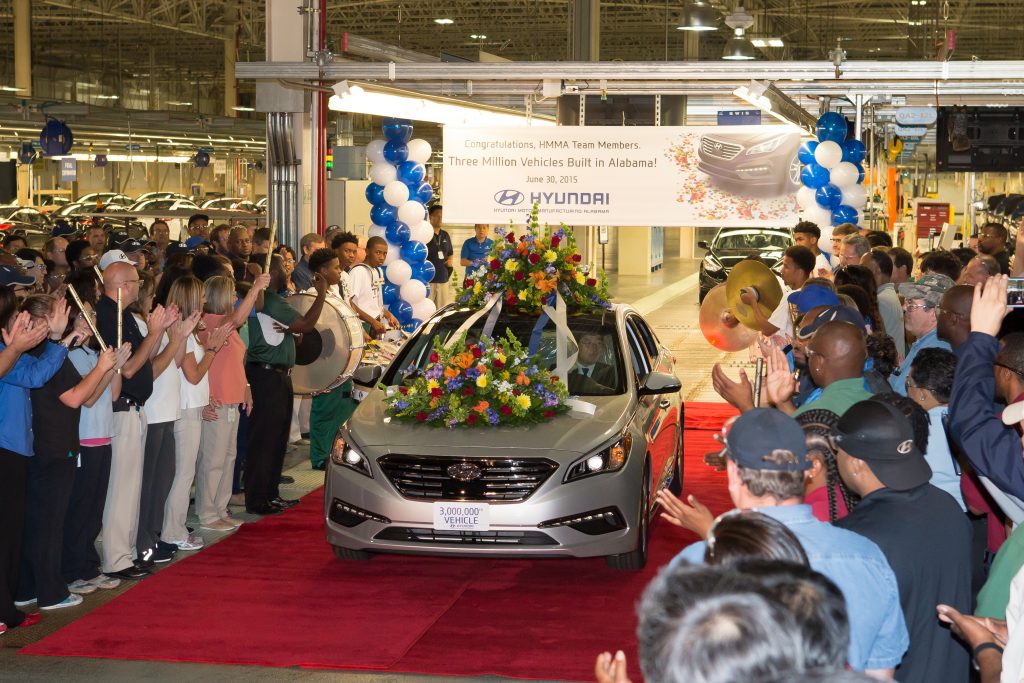 Hyundai Motor Manufacturing Alabama Reaches Production Milestone In Celebration of the 3 Millionth Alabama-Built Hyundai
MONTGOMERY, Ala., June 30, 2015 –Team Members at Hyundai Motor Manufacturing Alabama, LLC (HMMA) celebrated a production milestone today, completing the 3 millionth Hyundai vehicle built at the plant in Montgomery.
The production of HMMA's milestone vehicle comes a little more than 10 years since the start of mass production at the $1.8 billion facility on May 20, 2005.
"The commitment and dedication of our nearly 3,000 Team Members has allowed HMMA to achieve this production milestone faster than any other automotive assembly plant in the southeastern U.S. and fulfill our commitment to more than 3 million Hyundai customers across North America," said Jun Ha Kim, HMMA President and CEO.
HMMA is the sole production source of the Sonata sedan for the North American market. The plant also produces the Elantra sedan and 4-cylinder engines that power each vehicle.
The production breakdown, by model, is approximately:*
1,863,700 Sonata sedans
719,500 Elantra sedans
416,800 Santa Fe CUVs
Hyundai Motor Manufacturing Alabama employs nearly 3,000 full-time team members at its 3.2-million-square-foot Montgomery facility and has the capacity to produce as many as 400,000 vehicles and 700,000 engines each year. In September 2012, HMMA added a third shift to meet the growing demand for Sonata and Elantra sedans and increased the plant's operating capacity. One year later, the plant assembled a record 399,500 vehicles.
Through May, HMMA vehicles represent 44 percent of Hyundai Motor America's 2015 sales in the United States. HMMA also exports vehicles to Canada. The assembly plant's shipments to Canada have accounted for 25 percent of Hyundai Auto Canada's sales during the first five months of 2015. HMMA recently marked the 10th anniversary of vehicle production on May 20, 2015.
Production Milestones
The Montgomery plant was commissioned on May 20, 2005, after a three-year construction period. When Hyundai Motor Company decided to construct the plant in 2002, it became the automaker's first passenger vehicle plant in the United States. HMMA added production of the Santa Fe Crossover Utility Vehicle in 2006.
By November 2009, HMMA added a second engine plant to build the all-new Theta 4-cylinder engine for the re-designed Sonata sedan. The plant also assembled its 1,000,000th vehicle in November 2009.
In November 2010, the assembly operation transitioned to an all sedan production schedule with the addition of the Elantra sedan. During 2010, HMMA reached its original production capacity target of 300,000 vehicles per year.
In May 2011, the modification and expansion of HMMA's original engine plant was completed to assemble the NU 4-cylinder engine for the Elantra sedan. Two months later, HMMA built its 1,000,000th Sonata for the North American market.
Community Outreach
In November 2014, HMMA was given top honors at Montgomery's Business in the Arts Awards, receiving the Frank Plummer Memorial Arts Award – the annual event's lifetime achievement award for supporting the arts in our community.
Since 2002, Hyundai Motor Company, Hyundai Motor Manufacturing Alabama and its Team Members have given more than $8.5 million back to the community through donations and sponsorship of worthwhile causes in Montgomery and the River Region.
*(All production totals are rounded.)

About Hyundai Motor Manufacturing Alabama
Hyundai Motor Manufacturing Alabama (HMMA), headquartered in Montgomery, Ala., is an independent manufacturing operation of Hyundai Motor Company, based in Seoul, South Korea. HMMA currently produces the 2015 Sonata sedan, and 2016 Elantra sedan vehicle. HMMA can produce 400,000 vehicles annually. Hyundai cars and sport utility vehicles are distributed throughout North America, Canada, United States and Puerto Rico. In the United States, Hyundai vehicle sales are managed by Hyundai Motor America and are sold and serviced nearly 800 Hyundai dealerships nationwide.
Below, you'll find high-resolution versions of the images associated with this post. Right-click and "Save As" on any of the links below to save the image to your computer.