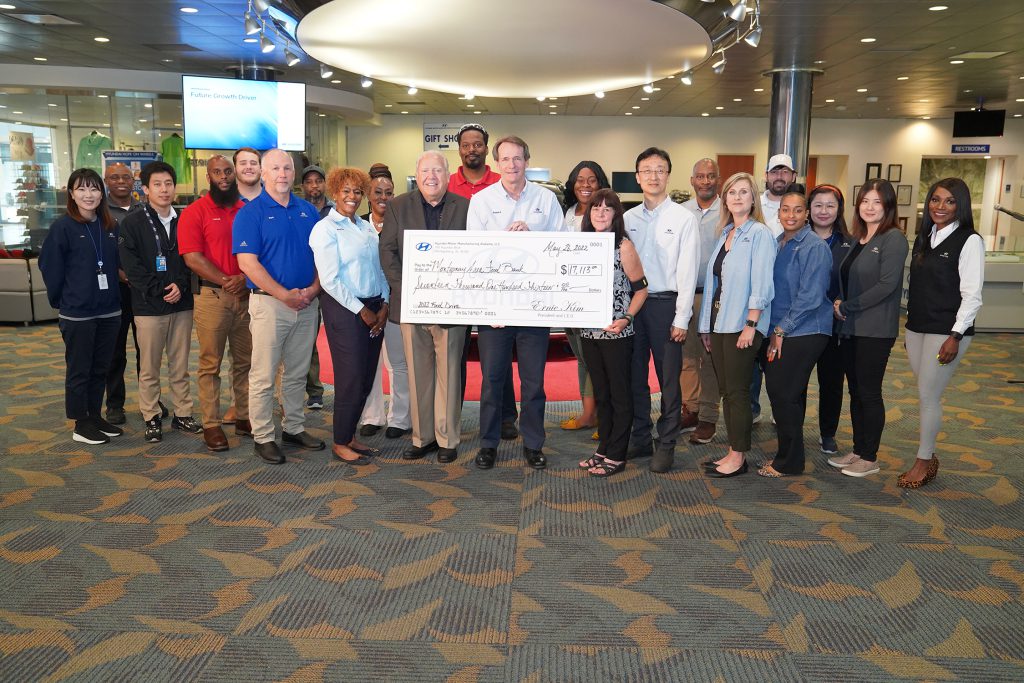 HYUNDAI MOTOR MANUFACTURING ALABAMA TEAM MEMBERS DONATE $17,000 TO MONTGOMERY AREA FOOD BANK
MONTGOMERY, Ala., May 26, 2022 – Hyundai Motor Manufacturing Alabama, LLC (HMMA) team members showed their generosity and team spirit by collecting $17,113 for the Montgomery Area Food Bank during HMMA's annual food drive. 
"With today's high inflation impacting every aspect of our lives, the Montgomery Area Food Bank is even more important for families on fixed incomes or who are experiencing other hardships," said Robert Burns, HMMA Chief Administrative Officer. "I'm proud of the contributions our Team Members have chosen to make to this vital organization. The HMMA family is very fortunate to have good jobs and the means to give back to our community in a meaningful way."
Montgomery Area Food Bank CEO, Rich Deem, offered his thanks to team members for their continued support. 
"We are proud to partner with Hyundai to help feed over 300,000 food insecure friends in 35 of Alabama's 67 counties.  Hyundai is an organization that not only recognizes the community's needs, but also takes action to do their part in solving the problem," said Deem.  "The Montgomery Area Food Bank would like to extend our great appreciation for the kindness and concern displayed by the leadership and staff of HMMA."
Below, you'll find high-resolution versions of the images associated with this post. Right-click and "Save As" on any of the links below to save the image to your computer.