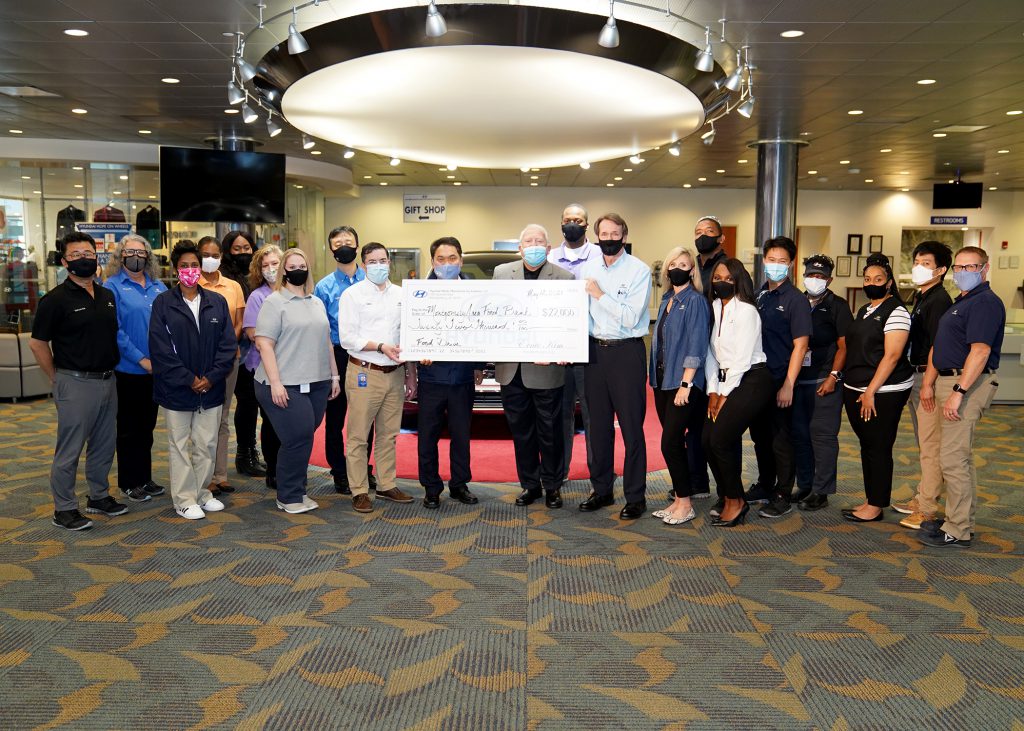 HYUNDAI MOTOR MANUFACTURING ALABAMA TEAM MEMBERS DONATE $22,000 TO MONTGOMERY AREA FOOD BANK
MONTGOMERY, Ala., May 12, 2021 – Hyundai Motor Manufacturing Alabama, LLC (HMMA) team members showed their generosity and team spirit by collecting $22,000 for the Montgomery Area Food Bank during HMMA's annual food drive.  Food bank barrels and boxes were placed around HMMA as team members donated to the month-long drive.
"During the pandemic, HMMA team members have been fortunate to be able to work and provide for their families. Many families in Montgomery and the surrounding counties have not had the option to go to work, and the Montgomery Area Food Bank has successfully filled that void during this trying time for our country," said Robert Burns, HMMA Vice President of HR & Administration. "HMMA team members recognize the importance of the services the Montgomery Area Food Bank provides to thousands of families every day, and I am so proud of their generosity to support the food bank's mission."
Montgomery Area Food Bank CEO, Rich Deem, offered his thanks to team members for their continued support. 
"We at the Montgomery Area Food Bank feel so fortunate that Hyundai has treated us like family, and we can't say 'thank you' enough. Hyundai team members are intensely aware of the challenge their 'food insecure' friends and neighbors face, and they never hesitate to take action," said Deem. "Thank you to Hyundai for being one of the strongest supporters of our mission to eradicate hunger in Alabama."