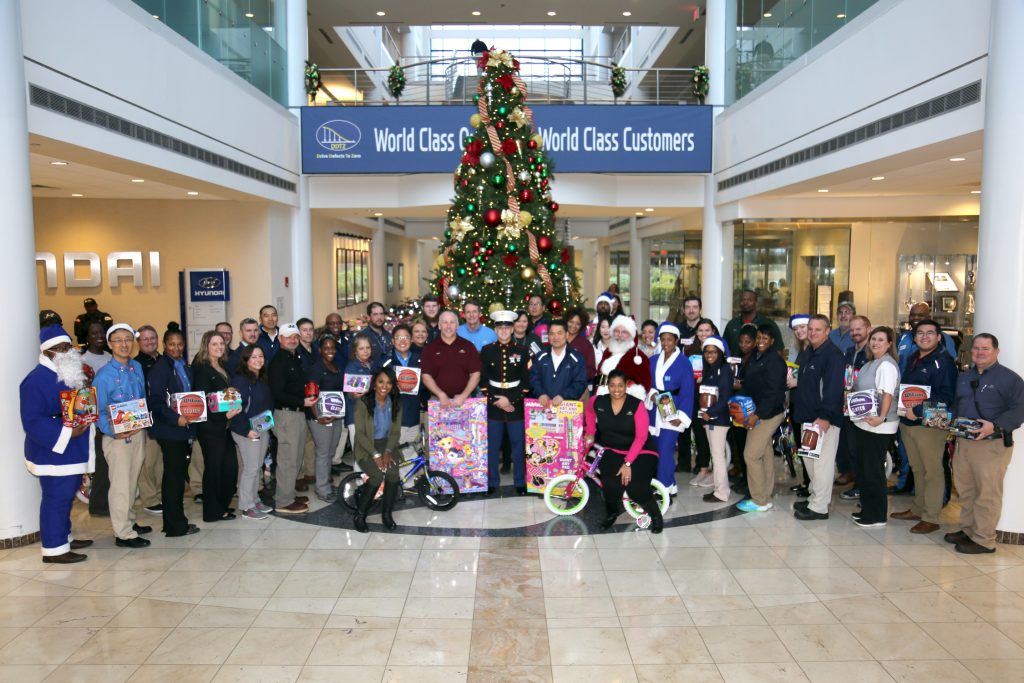 HYUNDAI MOTOR MANUFACTURING ALABAMA TEAM MEMBERS DONATE HUNDREDS OF BICYCLES AND DOZENS OF TOYS TO MARINE CORPS TOYS FOR TOTS
Montgomery, Ala. – December 14, 2018 – For the 14th consecutive year, Hyundai Motor Manufacturing Alabama team members held a toy collection and fund raising drive to support the Marine Corps Toys for Tots campaign.
During the months of November and December, team members purchased 391 bicycles and dozens of toys from local retailers. Team members from every area of the plant chipped in to donate the items which will help give a happier Christmas to Montgomery-area children who might otherwise go without. In addition to the bicycles and toys, HMMA team members gave more than $600 in cash to the Toys for Tots campaign.
"Every year, our team members choose share their own good fortune with others in our community by giving of their time and money to help those in need," said Robert Burns – HMMA Vice President of HR and Administration. "A big 'thank you' goes out to all of the shops and individuals who pitched in to make this year's Toys for Tots drive another huge success at HMMA."
This year marked the ninth consecutive year that HMMA has focused on collecting bicycles for Toys for Tots. In those nine years, more than 3,200 bicycles have been donated by team members.
Below, you'll find high-resolution versions of the images associated with this post. Right-click and "Save As" on any of the links below to save the image to your computer.