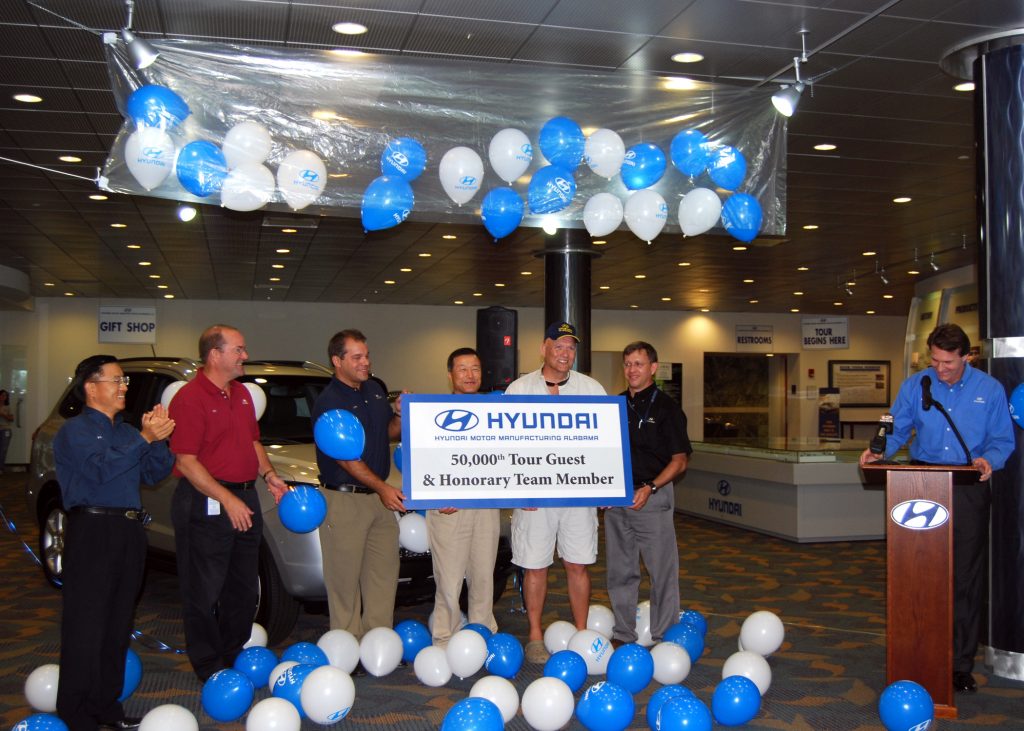 HYUNDAI MOTOR MANUFACTURING ALABAMA TOUR PROGRAM CELEBRATES ARRIVAL OF 50,000TH TOUR GUEST
Montgomery, Ala. – On Monday, June 16, 2008, T.M. Jones became the 50,000th guest to tour Hyundai Motor Manufacturing Alabama (HMMA). He is a Prattville, Ala. resident who owns a Sonata and Santa Fe. It was his first time to tour the plant.
HMMA's tour program started in mid-2005 and has seen a steady stream of between 300 and 400 guests per week. The 50,000th guest was part of tour No. 2,177.
T.M. Jones was recognized as an honorary Team Member for the day. He also received a $500 gift card, acrylic plaque and 50,000th guest ball cap. Tour guests who visited on June 16 enjoyed cake, cookies and other refreshments. They also received commemorative ball caps as a token of appreciation for coming to the plant.
During the celebration, Tim Haseltine reflected on the history of the tour program. He said the plant always puts an emphasis on its guests, even when they don't have a bunch of zeroes attached to their visitor number.
John Kalson, HMMA's vice president of production, said the tours allow Hyundai to show off the plant to potential customers.
"We are so proud of what we do and the products we produce," he said.
To learn more about the HMMA tour program, click the here.