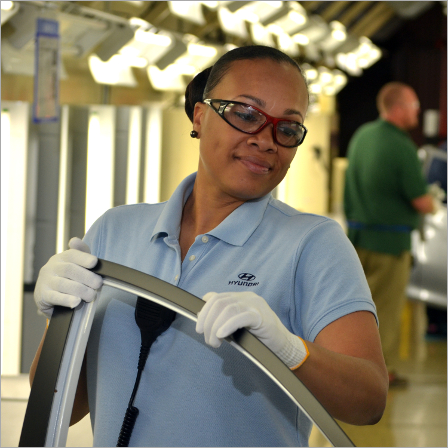 Cheryl Trone
Paint shop Team Member Cheryl Trone became an HMMA Team Member on November 15, 2004.
When she first joined Hyundai over 10 years ago, she started off in the black tape area of the paint shop where she still works today. Remembering back to that time, Cheryl recalls how different her average workday was then compared to now.
"Back then, we usually built one car a day," Cheryl says. "We did lots of cleaning and touring the different areas of the paint shop to learn about the processes. One day we worked a voluntary Saturday shift, and maybe 19 or 20 cars came down that day. We were so excited!"
Cheryl says the process of applying black tape is one that takes finesse and practice, and at first it was no easy task.
"It really is an art to apply the black tape," she explains. "We had to learn to put it on while the car was standing still, and then there was a whole new level of difficulty once the car was moving on the assembly line. We had Team Members from Korea here to train us on how hold the jig correctly and maneuver the jig so the tape wouldn't crinkle. It became so much easier once we learned to do it the right way, which was important as we began to build more cars every day."
That number of cars per day has steadily grown over the years from one a day in 2004 to over 1,550 today. Despite the difficult nature of the task, Cheryl says she wouldn't want to work any other job at HMMA.
"The black tape, to me, is the first thing the customer sees when they walk up to the car door to get in," she says. "When we see an Elantra on the road, I love pointing out the tape and showing my kids exactly what I did to help build that car."
Cheryl is as proud of her workmanship as she is to work on the Hyundai team. "I'm so thankful to work at Hyundai because it has given me so many opportunities I didn't have before," she said. "I was able to buy my own home and now I'm putting my daughter through college. I got to go to Korea in 2008 and it was my first time ever on an airplane."
Beyond all the new experiences and opportunities, however, Cheryl says her time at HMMA has been enhanced the most by the great people she has met and the Team Members she works alongside every day. These Team Members are truly the key to the past 10 years of success at HMMA and many exciting years to come.