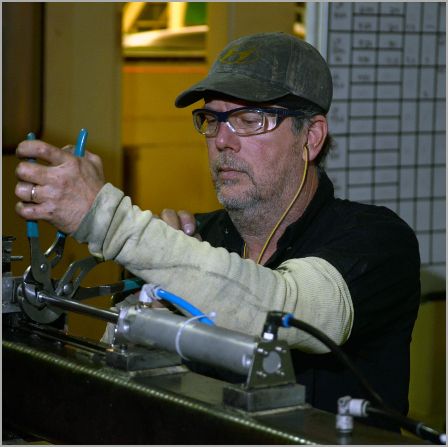 Chris Weihe
Stamping maintenance Team Member Chris Weihe joined the Hyundai family nearly 12 years ago on August 18, 2003. When Chris first came to work at HMMA, the landscape looked a lot different. "It was still dirt out here," he said. "The weld shop had a roof, but they were pouring concrete and setting the slabs under the roof. In the stamping shop they were in the process of putting the roof on.
"Where the parking lot is now, there were a bunch of trailers, and the maintenance office was out there," Chris remembers. "We would walk out to the plant site to see how things were progressing, and once the equipment started coming in we started checking the machinery."
Over the next two years, Chris and his fellow Team Members watched as HMMA's shops took shape. The stamping shop was cranked up to begin the process of transforming rolls of steel into the car body panels that would go on to become Hyundai vehicles.
"When we started up, we were running at about seven strokes per minute while everyone was working to get things just right with the tooling," Chris said. "Compare that to now, when we have some parts we can run up to 11 strokes per minute."
No matter how slow things may have been to start, Chris says it was a rewarding experience to see the assembly process in action. "It felt good that we were in operation," Chris recalls. "We were making vehicles prior to that but they were test vehicles. It was amazing to see the real cars in the various stages of production."
And now, 12 years later, when he sees an Alabama-built Hyundai on the road, Chris says that good feeling is still there.
"There's a sense of pride when you see a Sonata or Elantra on the road because you know it came from this place," he says. "If you're in maintenance you know you helped keep the equipment in operation to make that car, and it's a quality vehicle."
Thanks to dedicated maintenance Team Members like Chris, HMMA's first 10 years of production have run like a well-oiled machine.