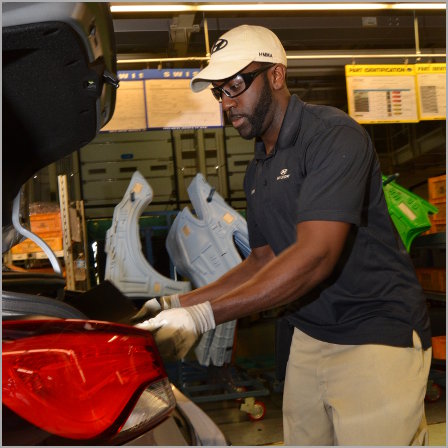 Jeremy Richardson
Team Member Jeremy Richardson works on the trim final line in general assembly. He has been a Team Member for one year, but began his tenure at HMMA as an Aerotek employee back in January 2013.
"I've worked on the trim final line for the whole time I've worked here," Jeremy said. "Mainly I work at station 3 where we take the couplers off the car and put in the brake fluid and coolant, but I know all the jobs on trim final except for two." Jeremy learned many of those jobs while he was still a contractor working for Aerotek at HMMA. He said the opportunity to be hired on as a permanent Team Member was a huge accomplishment. "I worked hard for Aerotek, I didn't miss any days, and I even helped train some of the Team Members who were going to be working with me, "he recalls. "I feel like that dedication is what helped me get hired on permanently. I'm so happy to be a Team Member now and to be part of the Hyundai family."
Jeremy said being in the Hyundai family extends beyond the work day. "I have made so many friends here," he said. "I see my work friends outside of work and even go to church with several of them." While Jeremy's time here has been short compared to HMMA's 10 years of production, he said he can see himself growing with the company for the long term.
"I see myself moving up within the company, to maybe specialist or even a member of management," he said. "There are so many great opportunities here and I want to work toward that.
"To my fellow Team Members: keep up the good work, but don't forget to be appreciative and grateful. This is a great company to work for."