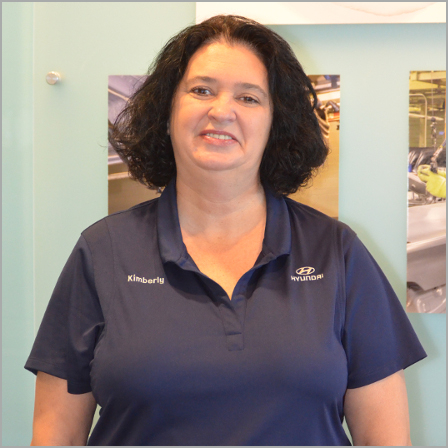 Kim Abrams
When Kim Abrams first joined the Hyundai team in January 2004, she began as a production Team Member in the weld shop.
"Those first few weeks we were at HMMA's Training Center, and then we went to Korea for 30 days for training on the assembly line," Kim recalls. "We got hands-on training there so we'd be able to come back and help train other Team Members."
many different cultures, and I've been able to provide for my family at home, all while feeling like I'm part of the big Hyundai family, too."
That experience proved helpful for the next several months as Kim and her team learned the skills they'd need to help start up production later that year.
"After a few months, we moved into the weld shop, but it wasn't even set up yet," she says. "We cleaned and helped install the equipment to get the building up and running."
Kim started on the floor line, where she learned to run robots and even learned to weld by hand. But, a few months into her tenure, she was approached with an exciting new opportunity: "They brought me to a completely empty room which they said would be the tool room, and they wanted me to set it all up."
Kim took on the tool room task and stocked it with all the inventory the weld shop would need. Then, in 2010, she was presented with yet another opportunity – this time, a move to the safety department.
"Now, in safety, I stock the PPE for the entire plant and I handle all of HMMA's workers compensation cases," she says. "I love that this job lets me help people with their work comp claims and help them find solutions if they have a problem."
From the weld shop to the safety department, helping her fellow Team Members has always been part of Kim's job here at HMMA. She says that's just the Hyundai way. "I love the spirit of family here," Kim says, "and how you know that people will always be there for you when you need them."