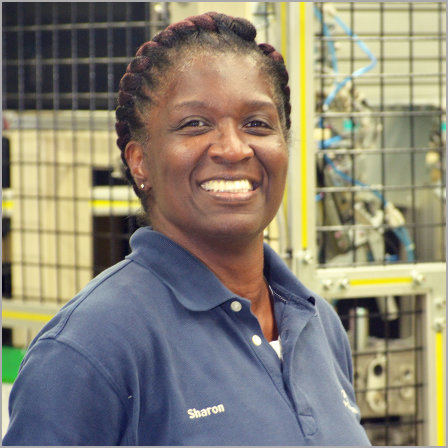 Sharon Robison
Sharon Robinson has been an HMMA Team Member since November 2004. She currently works in engine shop No. 2, but she started off in general assembly.
"When I first started here, I was working on trim 3," she remembers. "We weren't building cars yet, so we spent a lot of time training. We learned how to do the processes within that time and we did lots of stretches and exercises to teach our bodies how to handle the physical aspects of our new jobs."
Soon, Sharon says her team began getting more hands-on training. "We practiced on dummy cars so we could learn how to use our tools in the most efficient way," she recalls. "We had to learn the best way to hold the part and use the tool so that we could get the job done in time."
Sharon loved her time in trim, but she's also a person who's always looking for new experiences and learning opportunities. After 8 years, Sharon transferred to the engine shop. At first she worked in machining, and then later she moved to assembly where she works today.
"I have liked all my jobs, but I like this one the best," she says. "I have learned so many new things, like how to fix the machines when they go down. I get to be a keeper sometimes, and have had the opportunity to run head sub. I love learning new things about my job."
While Sharon says those learning opportunities are probably her favorite thing about working at HMMA, she also says there are plenty of other reasons she loves coming to work every day.
"From my heart, I am grateful for Hyundai," she says. "My husband, my son and I all work here. Hyundai is always providing for us, and the people here are such good people. It's a company to be thankful for."