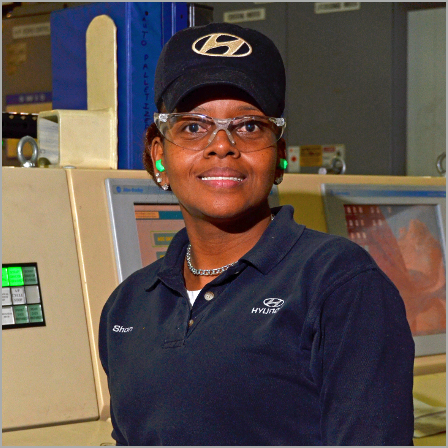 Shon Hunter
Stamping shop Team Member Shon Hunter has been at HMMA for the last 10 years. When she joined the Hyundai family back in October 2005, she began as an inspector.
"We had to inspect the panels to look for any imperfections," she says. "We would use an oil stone to rub across the panels and highlight any defects."
Shon says the oil stone method worked fine, but as she and her fellow Team Members got better at the inspection process they were able to help develop new inspection techniques. "All the inspectors helped develop a new glove technique as well as a highlight booth that makes seeing imperfections a lot easier," Shon says. "When they're easier to find, we are able to catch more defects and contain them in the stamping shop."
About four years ago, Shon moved out of the job of inspector and began working as a press operator. She says she's had many new learning opportunities since taking on her new role.
"I've had to learn the process of restarting the press after it has a fault," she says. "The hardest part is remembering all the different types of faults and knowing the very specific things you have to do for each one in order to restart the press."
But Shon says opportunities like these are what makes Hyundai a place she loves to work.
"Hyundai gives us opportunities for learning and recognition and advancement, as well as opportunities to help the people in our community who are less fortunate," she says. "We have great benefits and we are always getting the monetary achievement awards, and there are improvements being made all the time – like the break areas and bathrooms. Hyundai has made my life better."