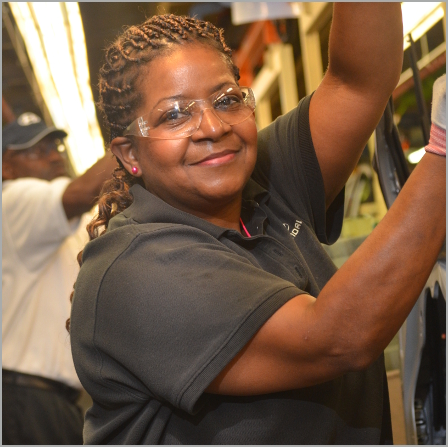 Charlena Mack
Charlena Mack has been a Team Member on the door sub line since June 2005. Charlena used to work in retail, so she says working at HMMA came with quite a learning curve.
"It was such a challenge at first, and sometimes I still face those challenges," Charlena said. "It's hard to work and talk at the same time, and people thought I was being anti-social, but my teammate Kiian helped me learn to open up and be social while still staying very focused on the job at hand."
She works a variety of jobs on door sub and says she could never pick a favorite because they all have their own merits. "I love the whole door line," she says. "But more than the jobs, I love working with all the people on my team. If you have an issue you always know someone will be there to help you."
Over the last 10 years, Charlena said her team on the door line, and the Hyundai team as a whole, has been much more to her than just a group of coworkers.
"I moved here with my husband and son, without any family in the area," she said. "A few years ago my husband passed away unexpectedly, and since then Hyundai has truly become my family. People I didn't even know offered me condolences, and now out in the community other Team Members will speak to my son and look out for him. I am so blessed to have this job and these people."
Charlena says HMMA is blessed to have Team Members who are both hard workers and great people, and that's what truly makes this a wonderful place to work.
"We all come from different backgrounds, but we are all here with the same goal: to build a quality car," Charlena said. "What makes Hyundai great is that we get to work towards that goal with friends who feel like family."