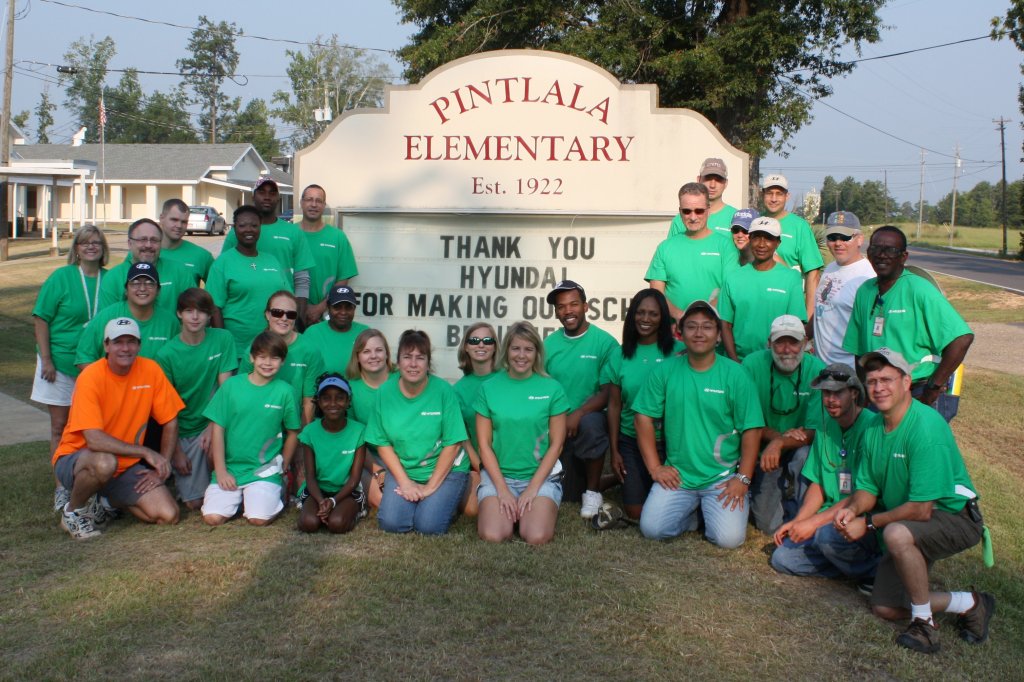 Montgomery Public Schools Clean-Up 2011
Students from the Montgomery Public School System returned to school campuses that were clean, neatly landscaped and clutter free thanks to the efforts of the Montgomery Area Chamber of Commerce. Each year the Chamber works with the school system to tidy up local schools and get them ready for the upcoming school year. Local businesses and organizations pull together volunteers that help by mowing grass, trimming trees, removing clutter, painting and more.
On Saturday, August 20, 2011, HMMA and its Team Members joined forces with the Chamber to prepare Pintlala Elementary school for the upcoming year. Not only did the Team Members perform the expected clean up duties, they went the extra mile by cleaning up the school's outdoor study areas and painting two colorful murals on the walls. Despite the high temperatures, HMMA Team Members worked hard and had lots of fun until the job was done.
This was Hyundai's second year participating in the clean-up project. Lending a hand to help the Montgomery Public School System proved to be a rewarding experience for all that participated.
Below, you'll find high-resolution versions of the images associated with this post. Right-click and "Save As" on any of the links below to save the image to your computer.