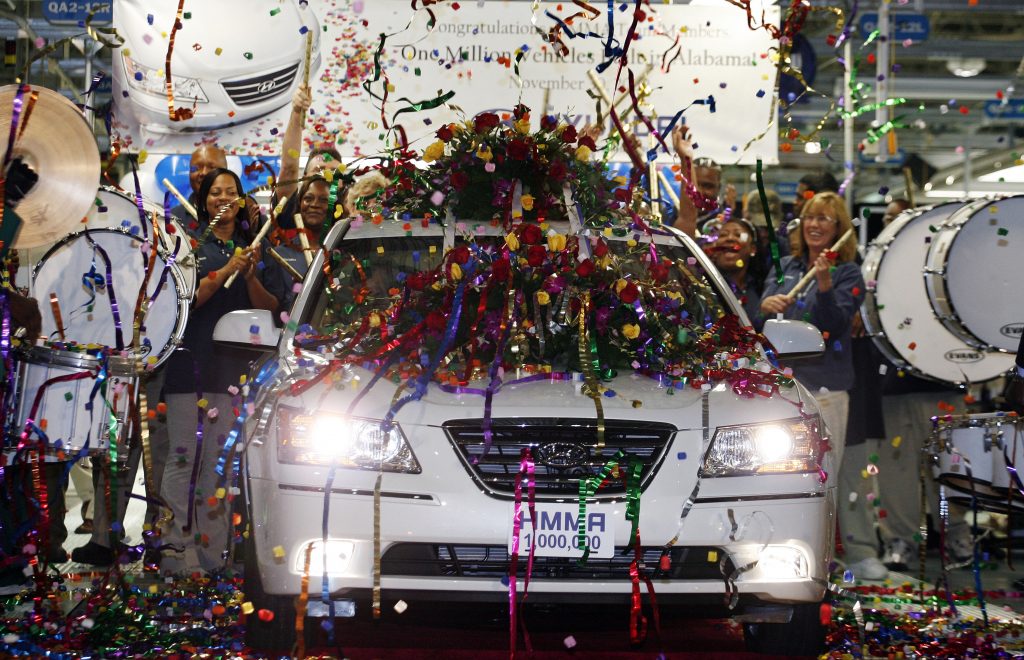 One Millionth Vehicle Rolls Off
ONE MILLIONTH VEHICLE ROLLS OFF HYUNDAI MOTOR MANUFACTURING ALABAMA ASSEMBLY LINE
Montgomery, Ala., November 30, 2009 – Today, Hyundai Motor Manufacturing Alabama (HMMA) President and CEO H.I. Kim, drove HMMA's 1,000,000 vehicle – a 2010 Sonata – off the assembly line with Mayor Todd Strange, Hyo-Seung Kim, CEO and President of Sejong and HMMA Team Member Angela Collins joining him in Hyundai's top-selling vehicle in North America.
"Our guests of honor today are without a doubt the team members wearing the Hyundai logo on their chest," H.I. Kim proudly exclaimed to the crowd gathered for the ceremony. "We've over came many challenges since production began in 2005 and through it all our Team Members never turned away from those challenges. It is because of you that we were able to accomplish this tremendous milestone."
In a little more than four and one-half years, HMMA reached the 1,000,000 vehicle mark. The plant has produced two different vehicles since 2006, the Sonata and Santa Fe.
A total of 655,496 Sonatas and 344,504 Santa Fes were built to reach this achievement in the plant's short history.
"Most of you had never worked in automobile plant, but you embraced the opportunity to be trained to do a brand new job, with brand new equipment in a brand new manufacturing facility," explained Rick Neal, HMMA vice president and general counsel. "You learned to build cars in a very short time. Your vehicles have won numerous awards because you worked together as one team to build world class, high quality Hyundai vehicles.  Congratulations to each and every one of you."
Montgomery Mayor Todd Strange, who helped bring Hyundai to Alabama during his tenure as director of the Alabama Development Office, congratulated Team Members for reaching 1,000,000 vehicles and helping to expand the automotive manufacturing sector in Alabama. Mayor Strange was one of the first representatives from Alabama to meet with Hyundai executives. More than eight years ago, on Thanksgiving Day, he flew to Seoul, South Korea to lure the global company to Montgomery.
Carver Senior High School's Drum Line, under the direction of Stephen Langford, entertained everyone with a raucous performance as the 2010 Sonata traveled down the quality inspection line. Plus, team members enjoyed spraying confetti over the sedan as it exited the line.
HMMA started producing Sonatas in May 2005. Santa Fes were added to the assembly lines in April 2006. The plant is currently manufacturing the 2010 Santa Fe and will soon begin assembling the "all new" 2011 Sonata.
HMMA employs more than 2,700 team members and has an annual economic impact of $420 million on the River Region.