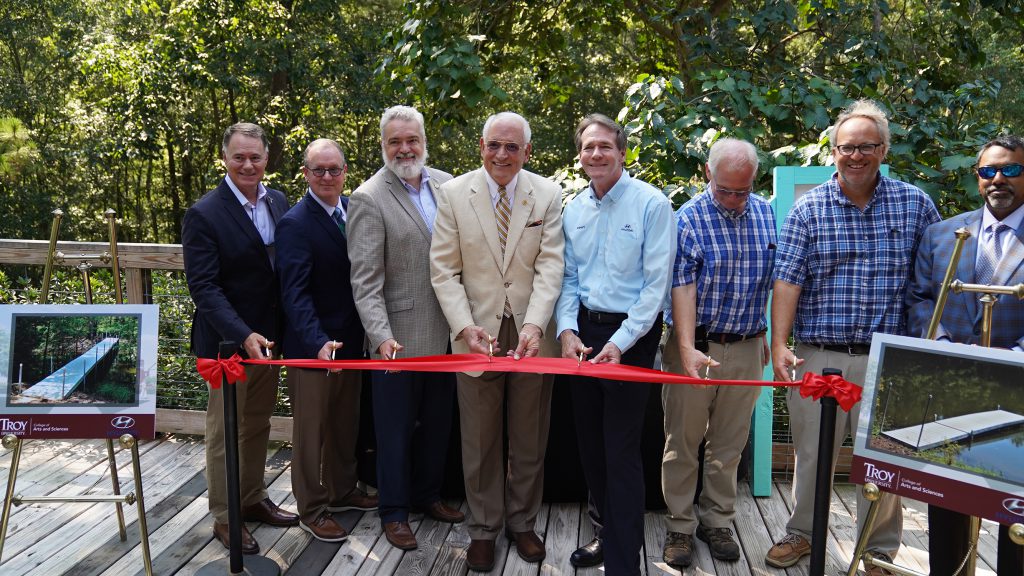 TROY UNIVERSITY CUTS RIBBON ON ARBORETUM UPGRADES SPONSORED BY HMMA
As part of its Community Relations program, in 2022 HMMA donated $25,000 to Troy University for much-needed upgrades to the university's arboretum grounds. On Wednesday, August 24, 2023, representatives from HMMA joined those from Troy University for a ribbon cutting to celebrate those upgrades that were done.
Troy University's arboretum encompasses 75 acres and features seven and a half miles of nature trails, over 500 identified plant species, a pond, an outdoor classroom, and an indoor classroom. The funds from HMMA were used to replace the bridge to the island in Mullis Pond and purchase and install a floating dock for class use. The new bridge and dock provide ease of access to otherwise difficult-to-reach spaces.
"On behalf of all our Team Members and our President and CEO Ernie Kim, we're excited to be able to do something special for the students and faculty," said Robert Burns, HMMA Vice President and Chief Administrative Officer. "Just having this option of a teaching or learning experience for the students is important for us. It's an opportunity to grow in a different way in an environment that's just amazing."
Both the bridge and the floating dock will be used for classes such as ecology, limnology, environmental science, and field vertebrate zoology. Students will conduct research such as the collection of water and organismal samples for analysis.
"The dock allows them to take accurate and reliable water samples in seconds, no need to get the boat out and all the equipment and get in all the reeds on the bank. You just walk down the dock and scoop it up," explained Josh Bailey, a graduate student from Troy University. "It helps our zoology classes; we can set up fish traps or turtle traps, and it makes it so much easier to have something to anchor it to. Our botany classes can use the bridge to go into the spring head and look at cypresses and sphagnum moss. It's an entire world of research and education that's now available.
Troy University Chancellor, Dr. Jack Hawkins, said upgrading the arboretum has been an inspiration to him for other ways the university can grow and provide learning opportunities for future students. "I really do believe that preserving the past is progress, and as part of our responsibility for the future I would conclude that we really do need to focus on what this place can be. What it can be," he said. "As we drove onto the grounds this morning, it occurred to me what more we can do."
The Troy University Arboretum works to preserve representative members, communities, and habitats of the Wiregrass region of Southeast Alabama on its acreage adjacent to Troy University's main campus.
Below, you'll find high-resolution versions of the images associated with this post. Right-click and "Save As" on any of the links below to save the image to your computer.