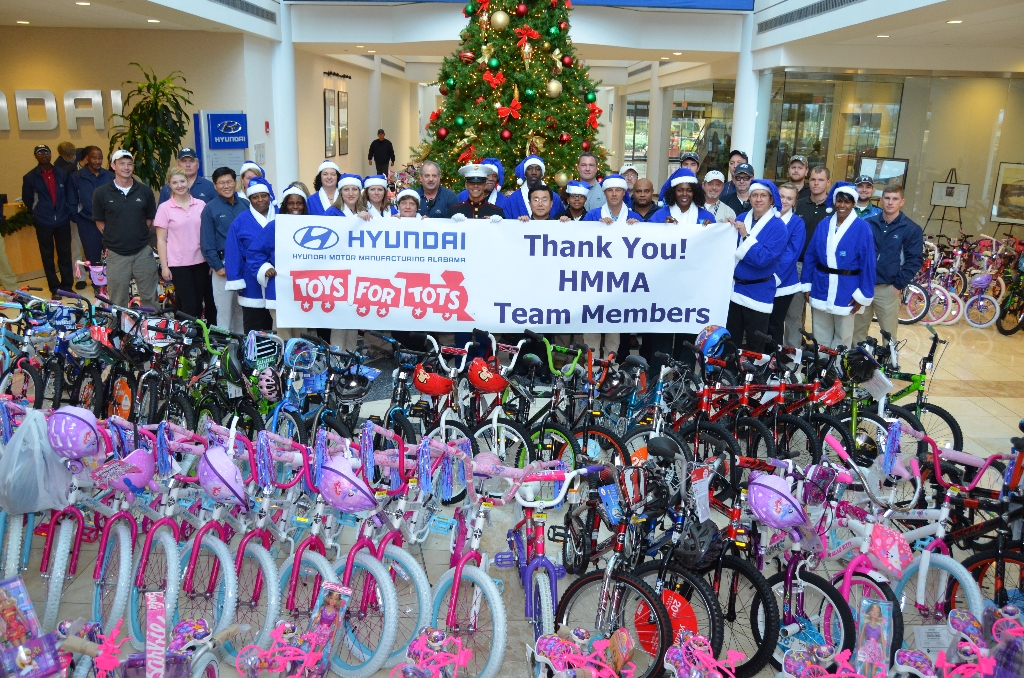 HMMA 2012 Toys for Tots Drive
Record year of donations by Hyundai Motor Manufacturing Alabama Team Members
HYUNDAI MOTOR MANUFACTURING ALABAMA TEAM MEMBERS DONATE MORE THAN 400 BICYCLES AND BOXES OF TOYS TO MARINE CORPS TOYS FOR TOTS
December 17, 2012 – For the eighth consecutive year Hyundai Motor Manufacturing Team Members held a toy collection and fund raising drive during the month of December to support the U.S. Marine Corps Toys for Tots campaign. Team Members purchased 442 bicycles and filled several boxes with toys. Team Members from every area of the plant shopped at local department stores to find bicycles and toys for all ages. Team Members also donated $1,000 to the Toys for Tots Foundation to purchase other toys.
Last year, Hyundai Motor Manufacturing Alabama donated 279 bicycles and several boxes of toys. U.S. Marine Corps representatives will come to the plant to pick up the gifts for need children in Montgomery and the River Region. HMMA Team
Below, you'll find high-resolution versions of the images associated with this post. Right-click and "Save As" on any of the links below to save the image to your computer.